V.V. Chari, Paul W. Frenzel Land Grant Professor of Liberal Arts and Professor of Economics, University of Minnesota; Founding Director, Heller-Hurwicz Economics Institute
Paper: "On the Optimality of Financial Repression" (with Alessandro Dovis and Patrick Kehoe)
The paper's main takeaways, according to Chari:
Good economics always has the property that things that seem like a puzzle on the surface, through deeper analysis, turn out to be less of a puzzle.
Good applied economics has useful and inter­esting policy recommendations, and I hope our paper has that as well.
The Federal Reserve Bank of St. Louis hosted its 39th Annual Fall Conference on Oct. 9-10, 2014. David Andolfatto, a vice president and economist with the St. Louis Fed's Research division, sat down with each of the conference presenters and discussed their work in plain English. The content below is from those interviews. All interviews have been edited for clarity and length, so the content below should not be considered a transcript. To read the papers presented at the conference, visit http://research.stlouisfed.org/conferences/annual/39th.html.
ANDOLFATTO
This is a very provocative kind of title, "On the Optimality of Financial Repression." What do you mean by repression?
CHARI
Financial repression is a term that's often used to describe policy measures by governments which require, in particular banks, but more generally, other intermediaries—like sav­ings and loans, insurance companies, pension funds and the like—to hold a lot of government debt in their portfolios. That is, that besides private assets that they might hold—like loans to households, mortgages and so on—they're often required to hold a lot of government debt.
ANDOLFATTO
Would required reserves on the part of banks, for example, constitute a form of financial repression, kind of a legislated amount of a certain type of government debt?
CHARI
Right. Typically, these are requirements that are justified in terms of safety and soundness. It says that, in order for a bank to meet its regulatory standards, it must hold a sufficient amount of so-called safe assets. These safe assets typically refer to the debt of the government where this entity is located.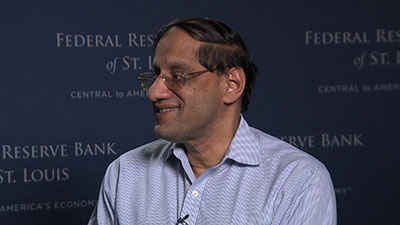 ANDOLFATTO
So the repression refers to the fact that these entities are required, kind of against their will, to hold these types of assets, I presume. So what is the question that you're interested then in addressing in this paper?
CHARI
Historically, this issue has largely been studied within the context of ensuring that banks particularly continue to be safe. But we take a somewhat different perspective on this. We look at the broad sweep of historical experience. Oddly enough, it turns out that whenever governments need to issue a lot of debt—the United States during the Civil War is one example of this; more recently, we've seen this need in Europe—that's when implicit or explicit regulations requir­ing financial intermediaries to hold debt seem to go up. These banks and similar institutions end up holding a large fraction of their portfolio in the form of government debt.
We thought that was a striking and interesting observa­tion, and so we were led to ask why. What we argue in our paper is that this phenomenon is very hard to understand if governments can in technical terms commit to their future policies. So what that means is that, if a government can choose what policies it's going to follow for a long period of time and stick to those policies, then requiring banks to hold this kind of debt is a very inefficient way of raising revenue. There are much more efficient ways of raising the revenue needed to finance a war or of issuing government debt during a recession, precisely because forcing banks to do this implies that banks will be able to finance less private investment, and so therefore the economy will be worse off as a consequence of these policies.
However, what we argue is that, in a world where people are concerned about the possibility that governments might default on their debts, either explicitly or implicitly through inflation, then these policies remarkably start to make sense. They make sense because if banks and other intermediaries are holding a lot of public debt, then a default endangers the financial system and therefore tends to make the situation a lot worse. And because the situation is going to be a lot worse, governments are dissuaded from defaulting.
Therefore, from the perspective of governments looking ahead, this mechanism turns out to be a useful device to commit yourself to not default in a world where it's difficult to convince investors that you will not default on that debt. So, paradoxically, something that is very bad, if governments can pick policies and stick to them, turns out in fact to be a necessary and a desirable instrument in a world without commitment.
ANDOLFATTO
So what you're saying is basically that, in a world where the government cannot commit to its promises, say, to repay debt, that if it forces the domestic banks to overload on the domestic sovereign debt, that this would increase the costs—the economic and presumably political costs—of the government from defaulting. And the threat of that is what enhances the ability of the government to refinance?
CHARI
That's exactly right. And so these forces are likely to be particularly strong when the government needs to issue a lot of debt, because when they issue debt, investors will buy the debt only if they think that the government is unlikely to default. But if you've got a situation in which you've already fought a war—think World War II or something like that—and you've issued a lot of debt during the war, come peace­time, you have a strong incentive to say, "Well, let's default in part on that debt through inflation or through explicit kinds of means."
How does that help you? That means that valuable resources which would have been used to finance other kinds of expenditures no longer have to be used to pay interest on government debt, and so therefore the distortions that occur because you've got this big overhang of government debt are much smaller.
ANDOLFATTO
Presumably, this is not the only way government could build commitment or enhance its commitment to repay. There are also political costs to, say, consumers and households who would be loaded up on this domestic debt. In your paper, you don't actually focus on that. You're focusing on the potential costs through the banking sector, not the political costs?
CHARI
Like any good paper, we hope, we wanted to focus on one issue rather than take on a whole gamut of issues. And so we chose to focus our attention on this particular issue, rather than discuss the broader ramifications. I have a bunch of papers which address those broader ramifications as well.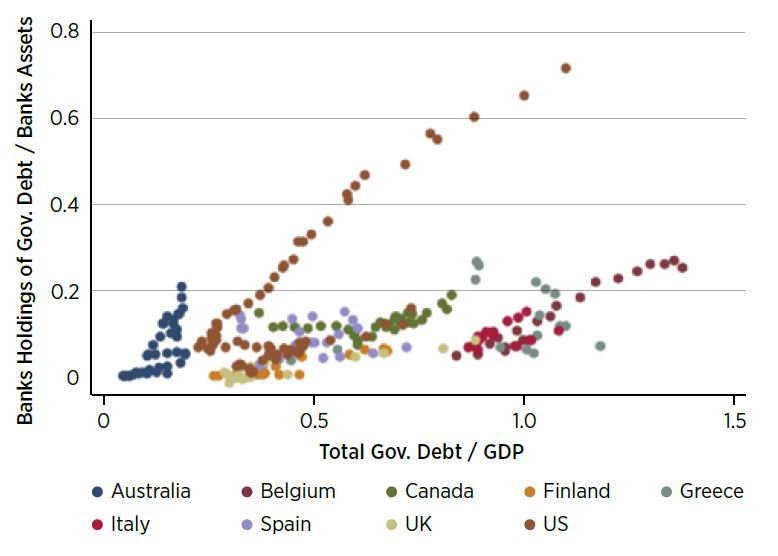 ANDOLFATTO
You mention, and I think it's pretty well-known, that it seems unusual that, say, Italian banks seem to be loading up disproportionately on Italian sovereign debt. But we don't necessarily see any explicit government regulations requiring these banks to behave in this manner. Could it be that there are natural market forces that would lead, say, Italian banks to load up on Italian debt?
CHARI
Yes, there are some market forces. The nature of regulation is a little complicated and a little subtle, because, especially as far as the banking system is concerned, private banks are in fairly close touch with their regulators. And their regulators evaluate the safety of these banks through a variety of different kinds of metrics. It's not just specific, written-down formulas.
We think of a lot of this kind of regulation as being implicit, not quite out in the forefront, not specifically in any written rule or regulation. But, yes, there are perhaps other forces that would lead Italian banks to load up on Italian govern­ment debt. Those forces tend to be weak because banks do have—in a reasonably competitive market system—strong incentives to diversify their portfolios.
And so, therefore, holding Italian government debt is a par­ticularly undiversified form of risk if you're holding a lot of Italian mortgages or loans to Italian firms, because that debt is going to become relatively less valuable exactly when the rest of the Italian economy tanks. So normal market forces, you'd think, would give Italian banks a strong incentive to hold German debt and German banks to hold a lot of Italian debt. Instead, we tend to see in practice the exact opposite.
ANDOLFATTO
Suppose, for whatever reason, the Italian banks feel that the Italian government is less likely to default on their sovereign debt that's held domestically. And suppose that this is true throughout Europe. You'd like it to be diversified, but if what I just said was true, this sovereign debt would be relocated to its domestic sources. That maybe reinforces your paper. This is not through explicit government regulation, but they know that the government is less likely to default if it's held domestically.
CHARI
I think that is very complementary. One can certainly imag­ine those kinds of forces inducing banks to understand that it's in everybody's cooperative and best interest to hold a lot of Italian debt. So I agree. I think the kind of story you are telling complements the story we're telling fairly well.
ANDOLFATTO
In terms of policy implications, what do you feel are the main lessons that policymakers might draw from the findings of your research?
CHARI
A very pressing and central topic in Europe, for example, right now is that the plan is that the European Union will have a central regulatory and supervisory authority, which will be run perhaps out of the European Central Bank in Frankfurt and in Brussels. And that authority will have the primary responsibility for supervising all the banks from Portugal to Ireland to Germany and Austria, as opposed to the current practice, which is that the national regulatory authorities regulate their own domestic banks.
And an important issue that's being discussed as we speak is: How should these regulations be set up? And there are lots of forces in Europe arguing on very sensible grounds that national banks—banks in Portugal for example—should not hold an excessive amount of Portuguese debt. That makes them vulnerable to the possibility that Portugal might default on its debt. And so, therefore, they should be induced or required to hold German debt, for example. And there are good reasons why you might think that that proposal is a good idea.
What our research suggests is, maybe not so fast. Maybe there are good reasons why Portugal or Greece or Italy or Spain might require their own banks to hold their own national debt. We should take those considerations into account in designing policy. Far be it from me to suggest that the considerations we're pointing out are the only ones that should guide regulation, but we think it is an import­ant, perhaps very important, consideration that they should keep in mind. So maybe the European supervisory author­ities should think twice before it harmonizes regulations across Europe.