Ross Levine, Willis H. Booth Chair in Banking and Finance, Haas School of Business, University of California, Berkeley
Paper: "Competition and Bank Opacity" (with Liangliang Jiang and Chen Lin)
The paper's main takeaways, according to Levine:
Competition tends to reduce lots of inefficiencies in banks.
We should be worried about policies and develop­ments that are going to reduce competition among banks.
The Federal Reserve Bank of St. Louis hosted its 39th Annual Fall Conference on Oct. 9-10, 2014. David Andolfatto, a vice president and economist with the St. Louis Fed's Research division, sat down with each of the conference presenters and discussed their work in plain English. The content below is from those interviews. All interviews have been edited for clarity and length, so the content below should not be considered a transcript. To read the papers presented at the conference, visit http://research.stlouisfed.org/conferences/annual/39th.html.
ANDOLFATTO
Would you mind telling us about your paper?
LEVINE
I want to investigate what happens to the quality of informa­tion that banks disclose to the public and to regulators after regulators reduce impediments to competition among banks. So the general issue is: If there's a regulatory change that allows banks to compete with each other, so one bank can enter another bank's market, does that have an effect on the quality of information that they disclose?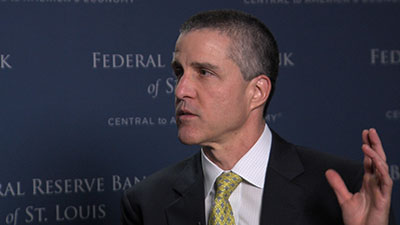 ANDOLFATTO
Quality in the sense of the quality of their balance sheet, the information contained in the regular statements required?
LEVINE
All firms, all corporations, including banks, have income statements and balance statements where they describe how much profit they're making and what their assets are. And they can do things with their accounts to make themselves look a little bit better or look a little bit worse.
When we talk about information disclosure, it's the degree to which they are manipulating that information in order to perhaps pass muster with the regulators on capital require­ments or in order to look a little bit better in terms of profits. Or they could even make themselves look a little bit worse if they want to discourage new entrants as a way to signal that the market's not very profitable.
ANDOLFATTO
What particular regulations do you have in mind here, or deregulation?
LEVINE
We look over a particular period in the U.S., starting in the mid-1970s and going through to about 2000, when there was a series of regulatory reforms that reduced impediments.
For example, one type of reform eliminated restrictions on banks being able to set up branches within their own state. For a long time in the U.S. and in many states, there were restrictions on how many banks, how many subsidiaries, how many branches a bank could actually have. Those were removed, and that meant if I was in one part of the state and you were in another part of the state, I could set up a branch and compete with you. And that was disallowed before by regulation.
Then there were other regulatory changes. For example, if I'm in California, you're in Missouri, and you want to open up a bank in California, for a long time in the U.S. for most of the 20th century, you couldn't do that. And these restric­tions were removed.
There were a variety of other restrictions that slowly allowed banks to be able to compete with each other more vigorously.
ANDOLFATTO
Regulations come. They wax, and they wane. Is there a presumption of what additional competition or the lack thereof has in terms of bank opacity?
LEVINE
What's nice from a research perspective, and I think also from a policy perspective, is that it could go either way.
For example, many people argue that competition improves efficiency. If this bank is going to be under threat, then its investors—potentially both bondholders and stockholders— are going to monitor that institution much more carefully and perhaps induce it to provide much more accurate infor­mation and not play around with the numbers.
At the same time, if a bank or another firm is under a threat, insiders may see that their horizons are short, and they may want to manipulate the information more intensively in order to get bonuses because the firm's long-term prognosis is not so great.
From a theoretical perspective, it could go either way. This has implications for us today because it's about what types of policies are going to make it easier for the private sector to assess what's going on at a bank, and also for regulators.
ANDOLFATTO
Yours is largely an empirical investigation. There's a broad class of theories that can go one way or the other. And now you're taking a look at some evidence. What evidence in particular are you looking at?
LEVINE
What we do is we look at these regulatory changes that take place in different states over different times, and we have measures of the degree to which the bank is manipulating its information before there was a regulatory change, and then we see what happens afterwards.
ANDOLFATTO
Give an example of evidence that you have of manipulation, how you can identify that in your data.
LEVINE
The accounting profession has many models of trying to predict or explain loan loss provisions. Loan loss provision is when a bank takes aside some money and puts it into an account and says, "We're worried that some of our loans may not pay off, and we want to have this money there just in case there's a problem."
When the bank does that, it lowers its income in that period, and it increases measures of capital. The bank can use that type of discretionary loan loss provisions. Maybe they don't really need to have loan loss provisions, but they do it any­way. Or maybe they want to boost their profits and look bet­ter to potential buyers, and then that way they'll take money out of loan loss provisions, and that comes in through the income statement and looks like a profit.
ANDOLFATTO
But how can you tell whether this loan loss provisioning is well-intentioned, or just for window-dressing purposes?
LEVINE
There are two ways we do this. One way to do this is through a statistical model, and this again comes from the accounting profession. We predict—using all the informa­tion we can—what we expect loan loss provisions to be, how much we think banks are going to put aside. Then, we look at the difference between our prediction from a model and whatever's left over. We can see whether that amount of ignorance, that measure, changes systematically before and after a bank faces competition.
The other way we do it is that banks also will restate their earnings. What that means is they put together their loan loss provisions. They release this information to the public—income statements and balance sheets. Then sometimes a few quarters later, they'll go back and they'll say, "Oops, we're going to restate it." So we also look at that, because that's a very direct measure of whether the bank had to change its accounts ex-post.
ANDOLFATTO
Restating financial reports is very common, but you're trying to discover whether this occurs more systematically under one regulatory regime vis-à-vis another, I guess.
LEVINE
Exactly. We get measures of how much of this type of restatement is taking place before a big change, how much is taking place after or in the earlier measure where we have a statistical model, and we assess how much of this manipula­tion seems to be taking place and whether it changes. What we find is that it's a very big change. It goes down by about 40 percent.
ANDOLFATTO
It goes down because of the regulations that permitted more competition in the United States? These measures go down?
LEVINE
Exactly. What happens is the measures of competition go up. So as regulators remove barriers to competition, I can come over to your neighborhood. You can come to California. What we see after that is, both you and I, because we're sub­ject to greater competition, we manipulate our earnings less. We restate our financial accounts less frequently.
ANDOLFATTO
According to your estimated model of loan loss provisioning, you estimate that this kind of window-dressing tool is used less frequently in a more competitive regime? So your empirics lend support to one side of the theoretical debate and argue that increased competition promotes transparency?
LEVINE
Correct.
ANDOLFATTO
Do you have a view as to whether this is a good thing? There are cases that could be made that some degree of opacity is kind of desirable—like the Fed, for example, does not disclose the identity of, say, the agents who make use of the emergency lending facility, or at least delays the disclosure. Do you have a view, or does your analysis suggest anything, about the desirability of these types of increased competition leading to greater transparency?
LEVINE
There's a long series of papers that examine the relation­ship between bank opacity—or the degree to which banks manipulate their accounts, the degree to which there are restatements of their earnings—and bank performance. What I mean by bank performance is you'll see that banks tend to be less stable, more fragile, when they manipulate their earnings more. And this exists in other firms as well.
You also tend to see that lending becomes less efficient and much more subject to the vagaries of the business cycle when banks are more prone to manipulate their earnings or restate their financial accounts.
Regulators also have a harder time following the banks when their financial accounts are not as accurate as they could be. So there seem to be these implications for bank behavior of the degree to which banks manipulate their earnings. Our contribution is to assess this question: Well, this one type of policy change—whether increased or decreased competi­tion—what was its impact on the bank? And it's the degree to which it manipulates earnings.
ANDOLFATTO
Let's take a look at the Canadian banking system in particular, which most people would characterize as less competitive than the United States. And yet it's widely known that it displayed much more resilience during the recent crisis in particular. Do you have any views on that? Have you looked at other countries?
LEVINE
In this particular study, I haven't looked at other countries. One of the nice things about looking at U.S. states is that we can hold lots of other things constant. Obviously, if you look at Canada and you look at the United States, the differences are going to be much more substantial. And it's hard to isolate the effect of one thing, like competition.
ANDOLFATTO
So competition is good for transparency, and transparency largely provides a more resilient, more accountable banking sector.
LEVINE
Yes, and I think it's relevant for today, because especially after the crisis, we have greater consolidation, perhaps a feeling of "too big to fail" on the part of investors and banks. This might be interpreted as an increased regime in which there's less competition.
What this paper talks about is not just the history from the '70s and the '80s, but it also speaks to what's going on now in terms of regulatory policies that might infringe on compe­tition and the contestability of markets.