Iourii Manovskii, Associate Professor of Economics, University of Pennsylvania
Paper: "Demand Stimulus and Inflation: Empirical Evidence" (with Marcus Hagedorn and Jessie Handbury)
The paper's main takeaways, according to Manovskii:
A lot of well-intentioned policies could have very negative impacts which counter the original design. For example, the policy of unemploy­ment benefit extensions—either motivated by its potential stimulative effects or by the desire to help unemployed people—may actually hurt unemployed people.
This is not because the unemployed are some­how lazy. On the contrary, unemployed people are desperate to work. However, unemployment benefit extensions improve workers' well-being when they are out of work. This puts an upward pressure on wages of those employed. Faced with a fixed level of workers' productivity but higher wages due to the policy, firms are not creating jobs because it becomes more difficult to cover the costs of job creation. And those unemployed simply do not get a chance of having a job. So the well-intentioned policy which tries to help unemployed people can actually hurt unemployed people and hurt them substantially.
We have to be really, really careful about thinking and understanding the effects of these policies. In particular, the models on which policymakers rely and which imply large stimulative effects are not consistent with the data.
The Federal Reserve Bank of St. Louis hosted its 39th Annual Fall Conference on Oct. 9-10, 2014. David Andolfatto, a vice president and economist with the St. Louis Fed's Research division, sat down with each of the conference presenters and discussed their work in plain English. The content below is from those interviews. All interviews have been edited for clarity and length, so the content below should not be considered a transcript. To read the papers presented at the conference, visit http://research.stlouisfed.org/conferences/annual/39th.html.
ANDOLFATTO
You're looking at some empirical evidence behind the relationship between demand stimulus and inflation. Can you tell us a little bit about the exact question you're addressing?
MANOVSKII
If you don't mind, I'll start a little bit further back, which might be helpful.
If you look at what happened in the U.S. economy in 2014 until now, what surprised a lot of people was an unex­pectedly strong recovery of labor markets. Unemployment declined substantially and employment increased substan­tially, so there is a roughly proportional flow of people from unemployment into employment. Vacancies are at an all-time high.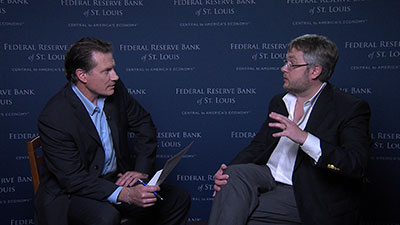 What caused this unexpectedly strong recovery? One thing that comes to mind is that, in January 2014, massive extensions of unemployment benefits, which started during the Great Recession, came to an end. And it could be that somehow that expiration of unemployment benefits caused the recovery in the labor market.
So how would the story work? It's very simple. When you provide benefits to people, people tend to demand higher wages in equilibrium, so wages go up. If productivity of workers stays the same, but firms have to pay higher wages to those workers, they have to hire fewer workers because prof­its decline and job creation goes down. That's not to say that people are lazy. It's not to say that people don't want to work. Everybody wants to work. It's just in equilibrium firms know that after they hire workers they will have to pay higher wages relative to workers' productivity, and that causes a decline in job creation, an increase in unemployment and a decline in employment.
This was the theory assessed in the paper that I wrote a year ago with Marcus Hagedorn, Kurt Mitman and Fatih Karahan where we very carefully measured the effects of unemployment benefit extensions and found very sizable negative effects on employment. Unemployment benefit extensions also increase unemployment and cause a decline in job vacancies.
ANDOLFATTO
Negative in those measures, but the insurance aspects could have had positive effects?
MANOVSKII
Exactly. One of the aspects in which our research was criti­cized was as follows. The argument was made by the Council of Economic Advisers and by the Congressional Budget Office that, "Look, unemployment benefit extensions is one of the best stimulative policies out there. It provides money to people, who would spend that money, will stimulate aggregate demand, will stimulate the economy and could have substantial positive effects on the economy."
And so the real motivation for this paper is trying to eval­uate, "Is it really happening? Is the effect of unemployment benefit extensions on demand stimulus really as big as the models that policymakers are using suggest it is?"
ANDOLFATTO
You're asking if the demand stimulus effect of, say, extending unemployment insurance benefits is as large as these models suggest. But what does the evidence suggest, first of all?
MANOVSKII
It's very hard to measure the effect of stimulus and to know directly whether stimulus has a big effect or a small effect. Suppose there is a state that has a lot of unemployment. You increase stimulus there, and you see that the economy recov­ers a little bit. It's not clear if it recovers a little bit due to stimulus and the stimulus effect is not too big, or maybe the conditions in that state or that location were bad and maybe even becoming worse. So it's generally very difficult to tease out how big this effect is.
And this is not what I'm doing in this paper. Instead, what I really want to assess is the quality of the models that poli­cymakers are actually using and that generate big effects of stimulus. Are those models consistent with what we observe in the data or not?
ANDOLFATTO
So the models that justify, in policymakers' minds, the positive effects of these types of stimulus programs, you're interested in taking their models and interpreting the evidence to see to what extent their models are consistent with this idea that this type of stimulus in particular is effective. Is this the idea?
MANOVSKII
That's an excellent description of what we do.
ANDOLFATTO
Tell us exactly then: What do you do, and which model do you have in mind of evaluating?
MANOVSKII
Let me explain how standard models work and how poli­cymakers usually think about it. Their reasoning is usually based on models in which prices are sticky. That is, there is some friction that prevents firms from adjusting prices. Now, suppose you provide money to people, and they spend this money to buy stuff. This increases demand that firms face, so firms, given that they cannot adjust prices, sell more.
What happens? People know that eventually firms will adjust prices, so prices will go up. And now consider the case of the zero lower bound on interest rates or the notion of the liquidity trap, which a lot of people argued characterized the economy in the last few years. Simply put, the idea is that the nominal interest rate is fixed at some low level.
And so then if you expect prices to go up, it means that you want to buy today. You don't want to delay your purchases into the future. In more formal economics terms, it means that real interest rate has to decline today, and this induces people to go out and buy stuff today. And this reinforces the effect of the original stimulus. People go out, they spend more, it amplifies the effect, and you can generate big stimu­lative effects from these policies.
ANDOLFATTO
In the context of these models that you're interested in evaluating, when the nominal interest rate is at its lower bound—which it is today—this type of stimulative program means: You write checks for people. They're going to spend more. Firms are going to increase their production, and people are going to foresee that prices are going to rise in the future…
MANOVSKII
And they want to spend even more today.
ANDOLFATTO
So this induces them to spend now before the prices rise?
MANOVSKII
Exactly. And why it might not happen outside of the zero lower bound is that it could be that monetary policies of central banks can undo some of those effects otherwise.
ANDOLFATTO
So this type of stimulus program will generate an inflation. That's what the standard model predicts. How do you evaluate this?
MANOVSKII
That's exactly where this paper comes in. We want to see whether unemployment benefit extensions—so spending on benefits—really changes inflation in the way that is consis­tent with these models and in the way that is consistent with big, sizable stimulative effects of those policies.
We identify counties in the United States which belong to different states but border each other. Now, unemployment benefit extensions are set at the state level. When economic conditions trigger unemployment benefit extensions, they are extended at the state level and apply to all counties within the state. This is the key part: It's not the economic conditions of a particular county that determine unemploy­ment benefits in the state. It's the total effect of the economic conditions in the state that determines the benefit policy that applies to all counties. And then by looking at two counties that border each other but belong to different states, we can isolate the effects of spending on benefits by observing what happens to prices and inflation. In those locations, we can identify the effect of stimulus spending on inflation.
ANDOLFATTO
So the idea is to consider two counties that border each other that are in different states and consider one state that, say, enacts an unemployment insurance extension program. Then, you want to study the behavior of these two counties that border each other to see if they react differently. And suppose they react differently. What do you discover then?
MANOVSKII
In the class of models that policymakers are using, there is a particular mathematical relationship called the New Keynesian Phillips curve. It has a very intuitive interpreta­tion. It says that inflation today is proportional to how costly it is for firms to produce the last unit of output they are producing plus expected inflation tomorrow.
ANDOLFATTO
So inflation is a function of what firms believe to be the costs of production, not only today but also…
MANOVSKII
Going forward, because remember prices are assumed to be sticky. If prices are sticky, it means firms may not be able to adjust prices for some time even if their costs of production change.
ANDOLFATTO
So they have to make a forecast of how their costs are going to evolve in the future. How does this relate into extension of unemployment insurance program?
MANOVSKII
Extensions of unemployment insurance programs mean that you provide a transfer. Recall it's very important that these extensions are financed at the federal level.
When the unemployment benefits go into a particular county, it's a pure transfer of resources into that county. When the resources enter the county, you would expect prices to go up, and you would expect marginal costs of the firm to go up because now firms have to hire more workers, they have to ramp up production and costs of doing so go up.
ANDOLFATTO
What you're saying is that the unemployment insurance benefits extension in the one county should stimulate more inflation vis-à-vis the neighboring county that did not. That's the implication of the theory?
MANOVSKII
Yes, but with one caveat. It's very important to measure inflation in a way that is consistent with the model. It's not just pure inflation. It's so-called quasi-differenced inflation. It's inflation today minus expected inflation tomorrow. It's this object that is related to the cost of producing for firms in the model. By looking at the data through the lens of the model, it's this change in prices that informs us about the changes in costs of firms and about the potential size of stimulative effect.
ANDOLFATTO
What sort of data do you have that permits you to identify this object?
MANOVSKII
We use Nielsen retail scanner data. It's a dataset which has approximately 40,000 retail stores, and we see the sales of all the goods they sell at a weekly frequency, the volumes they sell and the prices at which they sell each good.
When we look at those prices, they do not evolve in the way that the standard model would predict. In particular, the evolution of prices suggests—if you interpret that evolu­tion of prices through the lens of the standard model with sticky prices—that the costs that the firms are facing are not affected by fiscal stimulus. This basically means that fiscal stimulus or transfers of resources to a county do not drive up the costs of the firms, they do not drive up expected infla­tion, and so they cannot have any stimulative effect.
ANDOLFATTO
It had no effect on inflation, but these unemployment insurance checks, did they stimulate spending?
MANOVSKII
Yes.
ANDOLFATTO
Without driving up marginal costs?
MANOVSKII
Again, it's a little bit of a subtle question. They do not drive marginal costs or costs to the firm only if you measure those costs the way the models the policymakers are using tell you those costs have to be measured.
You can measure it in a much simpler way. For example, you can ask, "Do total sales of firms increase when consumers in a county receive transfers?" And the answer is yes, so those transfers do increase sales and consumer spending.
You can also just look at prices, without measuring them in a way consistent with those models, that is, without taking the difference between the prices and expected prices tomorrow. If you just look at prices in this way, you see a fairly strong response. Prices do go up in counties that receive transfers.
In this sense, there are stimulative effects of these policies. If you try to interpret those effects through the lens of sticky price models on which policymakers rely, you would say that those effects are not there.
ANDOLFATTO
That's a very subtle point you're trying to make. What you're suggesting is that these types of programs may be stimulative but not for the reasons that policymakers typically think. Would that be fair?
MANOVSKII
That's a fair interpretation. Essentially, if you really believe in the class of models that policymakers are using, those policies are not stimulative, or they're stimulative but not for the reasons underlying those models.
It's natural to expect some stimulative effect even if you take a pure, frictionless model with no frictions on prices, for example. In those models, transferring resources to a particular county would stimulate spending at least to some extent, so you would expect some effect along the lines of what we find. What you do not find is this big amplification of the effect through the sticky prices mechanism underlying policymakers' thinking.
ANDOLFATTO
The policymakers that are relying on these types of models to organize their thinking on other matters, they may be flawed I suppose is what you're saying. Are there competing models that might do better? Do you talk at all about them?
MANOVSKII
We do some. In particular, we look at one class of models which also feature pricing frictions: the sticky informa­tion-type models. The idea there is that once in a while, let's say, the grocery store managers make a forecast of how they expect the economy to evolve. They program their comput­ers, they program a pricing plan, and so there are prices that evolve over time according to those pre-specified plans. And people infrequently update those plans in light of the new information that they collect. It's just too costly to do it very often, so people only update those plans occasionally.
ANDOLFATTO
There's a competing model that potentially does better. There's the conventional one that doesn't do so well. What sort of mistakes might policymakers make by relying on this model vis-à-vis the one that you just described that does a bit better? Would they imply different types of approaches to stimulus?
MANOVSKII
The question is, "How big are the effects of stimulus?" The sticky information model would predict much smaller effects of stimulus than the original model, so the wisdom of stimu­lative policies could be called into question.
ANDOLFATTO
How many data points do you have in your paper in the dataset?
MANOVSKII
A lot. In the dataset on prices we have 76 billion observa­tions. It's a massive amount of data.