Fernando Alvarez, Professor of Economics, University of Chicago
Paper: "Mandatory Disclosure and Financial Contagion" (with Gadi Barlevy)
The paper's main takeaways, according to Alvarez:
In moments of financial crisis, intervention that otherwise would not be a wise policy may be justified.
This is not particularly bothersome. It's mostly about a release of information.
It's a public policy that is reasonable from the perspective of analyzing social cost and benefit.
The Federal Reserve Bank of St. Louis hosted its 39th Annual Fall Conference on Oct. 9-10, 2014. David Andolfatto, a vice president and economist with the St. Louis Fed's Research division, sat down with each of the conference presenters and discussed their work in plain English. The content below is from those interviews. All interviews have been edited for clarity and length, so the content below should not be considered a transcript. To read the papers presented at the conference, visit http://research.stlouisfed.org/conferences/annual/39th.html.
ANDOLFATTO
Why don't you tell us a little bit about the question that you're addressing in the paper?
ALVAREZ
The general question is to study one of the aspects of the stress tests. The stress test is one of the policy tools now used by central banks, mainly the European Central Bank (ECB) and the Federal Reserve, to analyze how banks will fare in differing scenarios, and then they make this information public. Stress tests have other aspects, but in our paper we mostly analyze that feature.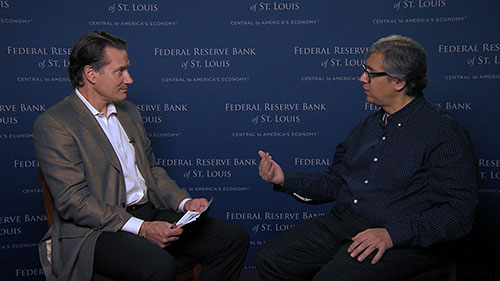 ANDOLFATTO
Are these stress tests something new? Or is this something that has been done in history? Is it something that's come about because of the financial crisis?
ALVAREZ
The form of the stress test has changed more than a little bit because of the financial crisis. Obviously, there has always been supervision from central banks over commercial banks and other banking institutions. But there has been a change to make the information public, which is not something that we have seen before. That's the aspect that we tried to study.
ANDOLFATTO
So regulatory bodies have regularly stress tested banks before to see how resilient they might be under different alternative financial stress conditions. But what's new, you're saying here, is that they're making the information public to the community? And you're interested in whether this is a good idea?
ALVAREZ
Exactly. So under what conditions is this a good idea from a public policy perspective, precisely? As you mentioned with your question, this is new. It happened in the financial crisis. And you see it in the academia and in the policy-making circles, like some of [former Federal Reserve Chairman Ben] Bernanke's speeches and obviously his influence during his tenure on conducting the stress test, but also in evaluating it afterwards in the ECB. So you see it in the public policy arena, in the academia, and also in some of the practitioners, they talked about some of the advantages. But what we want to think about is: If they are so good, why don't banks do it by themselves?
The idea is not that they are doing something to, you know, get banks doing something bad. It's just they are doing some­thing that in fact will help banks. It will help everybody.
So, from their perspective, if they are so good, why don't they do it by themselves? And also, if they are so good now, is it like somebody just discovered that now they are good and before people didn't realize? Or is it because of the finan­cial crisis that these are special circumstances whether they are good or not? So then our paper—like most academic papers—takes a stylized version of the world and tried to answer these questions in that stylized version.
ANDOLFATTO
There are also conventional reasons for why this type of information is not disclosed publicly, perhaps the stigma that such a disclosure might impinge on a particular bank that's identified as being weak. What do you have to say about that?
ALVAREZ
We studied a setup where sometimes it's a good idea and sometimes it's a bad idea, but we get a bit more precise. The times in which it's a good idea is when there's a lot of contagion in the sense that the fate of a particular bank is not determined that much by how these banks operate, but by how the whole network of banks operate. For instance: During the crisis, you had a market freeze, not so much because there's a large loss—maybe their losses are not huge—but we don't know where they are. So the image that we have is there are some bad apples, but we don't know where the bad apples are.
ANDOLFATTO
So the location of the risk is not known, and this potentially poisons the whole barrel.
ALVAREZ
Exactly. So everybody doesn't trust everybody else. The inter­esting aspect is that these are situations in which individual banks may not want to show that they themselves don't have the bad apples. But if they're all encouraged to do it, then you could get in a situation that is better for everybody and unfreeze the markets.
ANDOLFATTO
Under these conditions, we should observe that individual banks express voluntary desire to participate in the program.
ALVAREZ
If you know that the other banks do it, you are fine to do it. But if you're the only one, you may not want to do it. And I think the intuition is relatively simple.
Let's say that it has some cost to disclose this information and some benefits, such as showing to potential investors in the bank or other creditors that I've survived the stress test. But this also benefits you if, say, you're another bank, I owe you some money, and now you know that I'm solvent. And then the idea is that if you are all forced to do it, then the social benefits will be internalized.
Now, in a situation in which we don't trade that much, so we don't have these interlocked portfolios and your fate isn't so dependent on mine, then this wouldn't be an issue. In normal circumstances—circumstances where there's not much what we call contagion—then the private and social benefits would be aligned.
ANDOLFATTO
Your paper makes it very clear when and when not this type of policy of mandatory disclosure of stress test results is a good idea socially, and you mentioned that it all hinges on the degree of what you call potential contagion, the extent to which banks are interlocked.
ALVAREZ
It's the idea that maybe Lehman [Brothers] didn't have any­thing bad themselves. But then if someone else owes money to Lehman, I don't want to lend to Lehman.
ANDOLFATTO
Operationally, can we observe this interlocking set of claims? Is this something we can see?
ALVAREZ
The idea for policymakers and investors is that if a lot of people disclose information, you could try to find the archi­tecture of the financial network and really see where the bad apples lie. Now obviously, it will always be imperfect. But the idea is that one person, only one bank, disclosing information will give very little information about the whole network, while a lot of banks disclosing information will help a lot.
So it will be imperfect, but if you think about clearinghouses and these type of financial arrangements, they're all like, "I'm trading with you, but do I have to worry about your trading counterparties?" This is an issue that financial institutions think about a lot. One part of the contribution of this is that maybe it's forcing them to have to account for the social ben­efit and not just the private benefits of disclosing information.
ANDOLFATTO
On the whole then, you'd say your paper is generally supportive of the program, the stress tests?
ALVAREZ
Yes. In particular, Bernanke in the public policy arena or Gary Gorton in the academia pointed out that the freeze of markets in 2008 looked like, "I don't want to trade because I don't know whether the other party will be able to pay me." These may be the type of situations for which this is indicated.
ANDOLFATTO
When was the first stress test implemented?
ALVAREZ
There have been similar types of tests elsewhere, and then there's also the International Monetary Fund (IMF) now trying to encourage [them] more broadly, but mostly they are in the ECB and in the U.S. It wasn't at the very beginning of the financial crisis, but in 2009 there were two waves. The first one had disclosure of this information, and this was the first time that it has happened.
ANDOLFATTO
And I think I recall reading that Bernanke attributed a calming of the financial markets because of the outcome of the information. Do you share that opinion?
ALVAREZ
Well, the bigger analysis is complicated, because the stress test also has other features. Another feature of the stress test is that if a bank happens to be vulnerable to these types of shocks, then it mandates that it has to raise capital. That means it's hard to know whether it was the fact that informa­tion was released or it was also the fact that they were obliged to raise capital.
On the other hand, the ECB conducted a stress test that didn't have the second element. It only has the informational release. Where the Europeans focus on the information, they have some other problems in their design.
It was thought by most participants that this was not a credi­ble stress test. Nevertheless, even under these suspicions, peo­ple found calming effects from the stress test in Europe. So I will say that it's hard to know. These are complicated. But my reading of the evidence is very supportive of Bernanke's view.