Casey Mulligan, Professor of Economics, University of Chicago
Paper: "The New Full-Time Employment Taxes"
The paper's main takeaways, according to Mulligan:
I think a Fed audience is interested in two num­bers that I come up with: that employment will be 3 percent less—because of the law and all its taxes, especially the two that were emphasized in the paper—and GDP will be about 2 percent less.
Both of these impacts will be forever or however long the law lasts, and most of that, again, comes from the two taxes in the paper that we talked about in the conference.
The Federal Reserve Bank of St. Louis hosted its 39th Annual Fall Conference on Oct. 9-10, 2014. David Andolfatto, a vice president and economist with the St. Louis Fed's Research division, sat down with each of the conference presenters and discussed their work in plain English. The content below is from those interviews. All interviews have been edited for clarity and length, so the content below should not be considered a transcript. To read the papers presented at the conference, visit http://research.stlouisfed.org/conferences/annual/39th.html.
ANDOLFATTO
Tell us what the paper's about. What are the set of questions you're interested in addressing here?
MULLIGAN
I'm looking at the health reform or Affordable Care Act, as it's sometimes known. It has a number of taxes in there, but I focus on the two that turn out to be the biggest, and I think, often, the most underestimated or even overlooked. The first would be the employer penalty, and that's levied on large employers that don't offer coverage to their employees, start­ing next year and really going into full force in two years.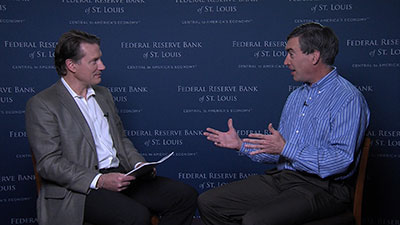 The second tax would be an implicit tax. It's a benefit with­held from people because they are employed, and, therefore, their employer's offering them coverage. It involves the withholding of some very generous assistance that came out with the law, but it's withheld, typically, from people when they work.
ANDOLFATTO
And "large employers" are defined as…?
MULLIGAN
It's a complicated definition, but roughly speaking, we could say 50 employees and over.
ANDOLFATTO
So these are taxes that are implicit taxes, as you say, that are overlooked by economists, policymakers? People haven't been talking about them very much?
MULLIGAN
The employer penalty has been given attention, but it's been well underestimated. Because of its tax treatment, it's actually quite a bit more expensive than the $2,000 headline number.
From a worker point of view, it's expensive because it's anti-competitive. It really discourages employers from having employees. Employee's wages are going to suffer from that, more than you would think from a more typical tax of that size.
ANDOLFATTO
Let's go back to the size of the penalty, which many people say is $2,000, the headline. And through your investigation, what do you find? To what extent has it been underestimated? Is it significant?
MULLIGAN
It's been underestimated in two ways. First of all, a lot of estimates put the number of workers that are really affected by it around 10-15 percent. I'd say it's more like 25 percent. The reason is this anti-competitive aspect to it that employ­ers are discouraged from becoming large. That hurts even employees who work for a small company, because their employer is no longer willing to compete so hard for employ­ees. So that would be one way it's underestimated.
Then the tax treatment: Because salaries are a deductible expense and penalties aren't, employers really have to cut salaries by over $3,000 in order to have that $2,000 to pay the penalty. Also, it's not a $2,000 penalty. It's indexed to health costs, and health costs have already gone up, so that's going to creep up on us as well.
ANDOLFATTO
I think you mentioned earlier that these are averages that you're reporting to me right now, but that there's quite a bit of heterogeneity that will impact various groups differently. Is that correct?
MULLIGAN
Yes. It varies across people for a number of reasons, such as their employer tax situation. Some people don't work for a for-profit employer, or their employer may have a different rate depending on the state they work in. That's a source.
If you think of the penalty in terms of the number of hours that somebody has to work to create the value to justify the penalty, that number varies. Some workers need to work a lot of hours to create a little bit of value, and other workers create a lot of value in a short amount of time. So, that's another major difference.
ANDOLFATTO
Do you actually try to quantify those? How do you do it? And what do you find?
MULLIGAN
I look at the amount of the penalty, making these adjust­ments for taxes that I mentioned. Then I ask the question, worker by worker, "How many hours do you have to work to create that kind of value?"
So, a minimum-wage worker, for example, would have to work a day every week of the year in order to create the value that would pay for that penalty that his employer is going to owe for him. One day a week for the government, on top of all the other days of the week we normally work for the government, is a lot.
ANDOLFATTO
This paper is not one where you investigate the likely behavioral consequences of this distorted tax—implicit or otherwise—from the Affordable Care Act. Do you intend to investigate it further?
MULLIGAN
I have a book. The front part of the book measures the taxes in many of the same ways as in the paper, and the second half of the book looks at the behavioral consequences.
ANDOLFATTO
In the system that existed before, you could argue there's quite a bit of cross-subsidization, in that employees at full-time establishments pay higher premiums to cross-subsidize the uninsured. Presumably, that cross-subsidization will go down if it's replaced by this ACA. Is this counted as part of the taxes? Are you measuring net taxes?
MULLIGAN
The paper I had today doesn't deal with those taxes. The paper I had today only deals with two of the big ones. There are other ones that aren't as big, and some of them go in the other direction. Maybe you're alluding to some of those. In the book, I cover them all.
We're hoping we're going to have, say, less uncompensated care. And that would have the effect of a tax cut. But it's not that big. Uncompensated care in the nation is $50 billion a year or less. These taxes are getting up in the hundreds of billions, so they're a different order of magnitude. But you have to account for it. If you want to get an accurate answer, you need to account for uncompensated care. And I do.
ANDOLFATTO
So you've written a book. You've studied the U.S. health care system, insurance system, in detail. Do you make cross-country comparisons? From what you've discovered in your investigation, do you think that there are superior ways to deliver the same product? Or is the ACA messing up along some dimensions?
MULLIGAN
It's not quite my expertise. Actually, the title of my book is adopted from Keynes. Keynes wrote The Economic Consequences of the Peace, and I wrote The Economic Consequences of the Health Reform.
One thing we have in common: We were saying, "Look, we have a document presented to us. What is its impact?" And we don't address what Keynes called the ideal question: What would have been a better document? I don't know. I don't have a better document. I have the document I have, and here are its effects. People should address that, but first thing I think would be good to understand is: The document we were given, what is it going to do to us?
ANDOLFATTO
So, let's first understand what the likely effects are of the legislation as it's passed, and then subsequently, we can debate the merits and the pitfalls and talk about alternative design. That's your view.
MULLIGAN
I took that off of Keynes' playbook.