Michael Woodford
John Bates Clark Professor of Political Economy, Columbia University
Paper: "Conventional and Unconventional Monetary Policy with Endogenous Collateral Constraints" (with Aloísio Araújo and Susan Schommer)
Andolfatto
Why don't you tell us a little bit about the question that your paper is addressing?
The paper's main takeaways,
according to Woodford:
It's not a paper that claims to have given anything like a complete analysis of the situation that we're currently in. It's more an exploration of some important considerations and how they're connected to each other.
Even when asset purchases might have useful effects, one should ask how far it is useful to go with them, because even in the cases where there are beneficial effects of shifting some risk of a certain side on the central bank's balance sheet, it definitely doesn't mean that then shifting more and more of it can only be better.
I think there are real questions about how far you would want to go down that path.
Woodford
The question is one posed by dramatic changes in monetary policy, particularly in the U.S. in the last few years, although to some extent on the part of other central banks as well. And that's been a switch from monetary policy being about deciding on the level of short-term interest rates—the federal funds rate here in the U.S.—to instead focusing on the Fed's purchases of assets, various types of long-term Treasury securities or agency-issued securities. And that's been a very important change. It's raised a lot of questions about what exactly the Fed is doing playing as big a role suddenly as it is in buying different types of assets and many more assets than it used to.
There hasn't been a lot of economic theory developed to explain what that kind of policy would be about. There have been many decades of discussion of what central banks should do with interest rate policy and what effects it seems to actually have on the economy. This new tool has been much less studied, although under pressure of the emergency central banks have been experimenting in a big way with these unconventional policies. And our paper is trying to begin at least a discussion within economic theory of how we can understand the new tool and how it's similar to or different from traditional interest rate policy.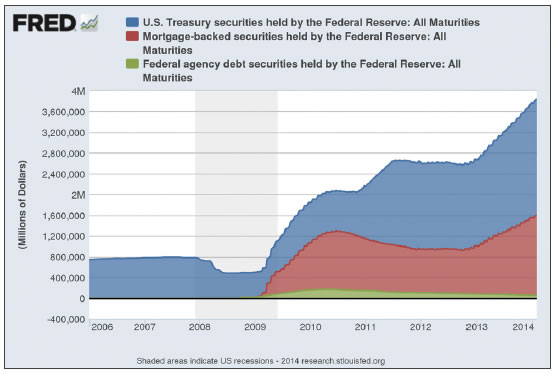 Andolfatto
There is a conventional wisdom of how these tools might work. Can you explain to us the findings of your own research, how they might corroborate these findings or these beliefs? Or go against them in some manner? Is there something surprising that emerges from what you've discovered?
Woodford
I think so. I think a lot of the discussion that you see of the point of asset purchases suggests that there should be a lot of similarity between the effects of purchasing long-term assets and the effects of cuts in the federal funds rate, the Fed's traditional tool. People say the whole point of cutting the federal funds rate is longer-term bond yields would also go down, and if you can just buy longer-term bonds, push up their prices, that's doing the same thing with a different mechanism. It's a different way of doing the same thing. And if you can't cut the federal funds rate further, then there's an obvious reason to use the other method.
And our analysis suggests that this analogy between the two tools is not nearly as strong as you might have expected.
Andolfatto
Why is that exactly?
Woodford
Well, one reason is that the question of whether it's clear that Fed purchases of longer-term assets can affect the prices of those assets as directly as traditional interest rate policy would. But I think the more surprising thing is that our analysis suggests that even under circumstances when the central bank finds that its purchases do affect the market price of the longer-term assets, the connection between that and spending in the economy, and then the effects on inflationary pressure, are not necessarily at all similar to those of conventional interest rate policy.
Andolfatto
So you're suggesting that it is possible, at least in theory, that the Fed engages in the large purchase of a certain class of assets? Injects money into the economy by purchasing a particular class of assets? And that this may, in fact, have very exact opposite sort of effects than conventional data might suggest?
Woodford
Right. We clearly show that that's at least a theoretical possibility. And obviously then deciding whether you think that's actually happening is another thing. But I think the analysis points out that you shouldn't assume that the mere fact that you could raise the price of the bonds answers then the question about what effect you're having on the economy.
Andolfatto
So can you explain the economic intuition for that effect and whether or not it has some bearing as to the conduct of Fed policy today?
Woodford
I think the point is a fairly simple one, and it has to do with the question of why the central bank purchases should be able to move the market price anyway, which, again, people thought was kind of obvious. They said if you're buying more of something, surely that will tend to make it more expensive. But when you ask whether that should actually happen with a lot of sophisticated traders out there in the market that are also trading against the central bank, what we argue is that if the other traders in the economy aren't constrained in the financing they can mobilize to take the positions that make sense for them, they will tend to automatically have an incentive to trade against the central bank and to neutralize then the effects of the central bank's trades.
The case where that won't happen is if the people who would have an incentive to trade against the central bank are financially constrained. In particular, if people who would wish to shift out of the particular kind of assets that the central bank is buying aren't able to reduce their exposure to those kinds of risks as much as they would like to, you can have the market valuation changing.
But what may very well be happening is then you're forcing, in fact, parts of the economy to bear types of risk that they don't want to. You're pushing them more tightly against their financial constraints and saying that that's a victory because you're changing market prices. You're doing something, but you have to ask whether you're doing something that's making the financial markets function more the way you want them to, or making financial constraints have even more perverse effects because they're constraining people even more.
Andolfatto
These so-called financial constraints that you're alluding to have to be present even in the case where the Fed intervention has conventional effects on the economy? What are the circumstances that distinguish whether or not the Fed purchase of the assets kind of makes things go in the right direction, or kind of makes them go in the opposite or unintended direction? What's the distinguishing characteristic between those two cases?
Woodford
What our analysis implies should be looked at more is the question of who you think is financially constrained and how much they're financially constrained. On the one hand, it is possible that there are people in the economy who would like to take on more of a certain kind of risk and are currently being prevented from taking on as much of that risk as they would like to because of their financial constraints. And perhaps the central bank then taking on that risk and then indirectly causing people in the economy to bear it, whether they're voluntarily doing it through their own portfolios or not, is helping them to take on risks that they would have liked to take on themselves. Alternatively, it is possible that people who would like to reduce that kind of risk are prevented from reducing their exposure to a certain kind of risk because of their financial constraints. And by forcing them to take on more of it, then you're pushing them in the opposite direction to where they would be moving if their financial constraints were reduced.
Andolfatto
Do you think that there's scope for central bankers to take the lessons of your model, for your theory to tailor their activities, their interventions in the economy? I guess another way of asking the question is: Are you largely in favor of the large-scale asset purchase program that the Fed is currently undertaking? Does your theory have anything to say about that in particular?
Woodford
The main thing it has to say, I think, is that it would encourage caution about plunging into the policy as far as we have without more investigation of what it's supposed to achieve. In general, our analysis would say that simply looking at whether you think you can move the market prices isn't at all an adequate basis for conducting the policy.
And the question of who's more financially constrained—people who want more risk or people who want less—is something that I think should be looked at when considering the policies. And I don't think it's been too much a focus of investigation. But something that our theoretical analysis implies is that even if you had more people constrained in their ability to take on more risk of a certain kind, and you would be helping them have more exposure to that kind of risk through central bank purchases of a certain scale, if the central bank continues taking on more of that type of risk on its balance sheet, as that policy proceeds, it becomes more and more likely that the relevant constraint is on the other side. People would like not to be exposed as much to that kind of risk and are not going to be able to reduce their exposure to it.
And so I think the further you would go with asset purchases of a particular kind, the more reason you would have to be concerned that the effects are more likely to be on one side than the other.
Andolfatto
You talk about Fed purchases of risky assets. I mean, do you have in mind some loose connection of the Fed's purchase of the mortgage-backed securities, the agency debt?
Woodford
I think that the main argument that's been made for the desirability of the Fed asset purchases relies upon the idea that certain types of risk are going to be taken onto the Fed's balance sheet, and the claim that taking those types of risk out of the portfolios that people in the private sector have to hold is going to make a difference for the pricing of risk in the economy. And so the whole idea that you're concentrating certain kinds of risks on the balance sheet of the central bank, I think, is entirely the theory behind what's going on. It's not just an accidental effect.
And so then you have to ask: What do you think that does? And I think it's a mistake to say, well, the central bank just takes the risk away. It doesn't take it away. It can affect who is, in fact, going to bear the risk, because essentially it means that a public institution is taking on the risk, and that means that taxpayers as a group are going to have no choice about bearing that kind of risk. And the question is whether you think that concentrating the risks in that way is facilitating an allocation of risk that was, in fact, desirable and that the markets would have been achieving themselves through voluntary trades if financial constraints hadn't been impeding it, or whether you're bringing about an allocation of risk that people would have liked to trade away from if financial constraints weren't keeping them from doing it. And you're pushing them even further into a corner they don't want to be in.
Andolfatto
If you were Chairman of the Federal Reserve, what sort of policy or policy intervention would you be favoring at this time, just endowed with the situation as it has developed to this point?
Woodford
It's obviously a very complex situation. In general, I wish the Fed were speaking more about the need for fiscal policy to take on more of the burden of trying to get the economy moving. I'm afraid that, to some extent, the Fed's desire to stress the fact that we still have tools, we haven't used all of our ammunition, has had unfortunate effects. Of course, the intention of that is to reassure the public. The feeling is that letting people be scared that maybe we're out of ideas would itself create uncertainty about the future that would be undesirable for the economy. And that's understandable. But I worry that it's had the undesirable effect of letting Congress off the hook a little too easily by letting them say, "The Fed still has lots of things they can do to take care of the situation, so we can play other games." And I think maybe the Fed would have helped the public debate if it had pushed back a little more on the view that everybody should be assuming the Fed will save everything.