Reaching Out to Delta Communities
The Arkansas and Mississippi Delta region—an area flanking the Mississippi River—has faced decades of intergenerational poverty and a lack of resources to address this situation.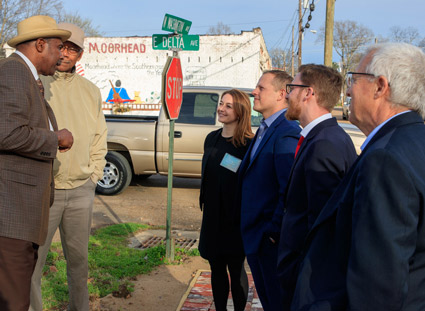 Delta Communities Initiative
— By the Numbers
4: years since launch
32: regional forums held
750: Delta leaders engaged
The St. Louis Fed's Community Development team launched the Delta Communities initiative in 2016 in recognition of these circumstances and in response to the Bank's Community Development Outlook Survey findings.
Under the initiative, the team has held regional forums to build awareness of potential tools and strategies for community and economic development.
The forums feature presentations from St. Louis Fed staff as well as regional and national representatives with experience in building and sustaining community and economic development efforts.
Regional forums focus on topics such as:
Understanding the credit environment for small-business development
The role of housing as an economic development driver
Finding financial resources for community and economic development
Other programs complement the success of the regional forums, including the Delta Philanthropy Forum and the Delta Capital Project.
Programs
Delta Communities Initiative: Conducting regional meetings on tools and strategies
Delta Philanthropy Forum: Bringing together philanthropists who make grants in the region
Delta Capital Project: Studying federal and philanthropic capital flows into 38 Delta counties
St. Louis Fed President Bullard Hears from Delta Main Street
St. Louis Fed President James Bullard visits the Arkansas and Mississippi Delta region as part of his regular tours around the District. Meeting with groups and local businesses throughout the District allows him to deepen his understanding of Main Street issues and the state of the regional economy.
St. Louis Fed Advisers Bring a Delta Perspective
Tim Lampkin and J. Brice Fletcher have brought a Delta viewpoint to the St. Louis Fed. Hear from them and other St. Louis Fed advisers and board members in the Voices of the Fed video series.
Tim Lampkin grew up in Clarksdale, Miss., in the Delta region and now leads the nonprofit Higher Purpose Co. As CEO, he works with black residents across Mississippi to build community wealth.
Lampkin—a member of the Bank's Community Development Advisory Council (CDAC)—said he didn't realize his family was living in poverty because all of his needs were met. It wasn't until he was in college that he started to understand the history of the Delta, particularly from an economic perspective.
"And a lot hasn't necessarily changed," Lampkin said. "Poverty levels here in Clarksdale and across the Delta are still very high."
He said that serving on the CDAC offers a "huge perspective" on what's happening in his region and solutions for tackling some of its biggest challenges.
J. Brice Fletcher served on the St. Louis Fed's Memphis Branch board of directors from 2014 until January 2020.
His entire professional career has been at First National Bank of Eastern Arkansas in Forrest City, Ark. He is currently chairman of the bank.
As head of a small community bank, he brought to the St. Louis Fed the perspective of small, rural America—especially in the Delta, he said.
"There's so many rural communities … all through the country, and I think they need a voice," Fletcher said during his term on the Memphis board. "It's rewarding to be able to take their stories to the Fed."