Supplier Diversity in the News
Minority- and women-owned businesses were particularly hard hit in the early days of the COVID-19 crisis.
The St. Louis Fed's Supplier Diversity coordinator describes the impact and ways businesses can help in this Open Vault Blog article.
---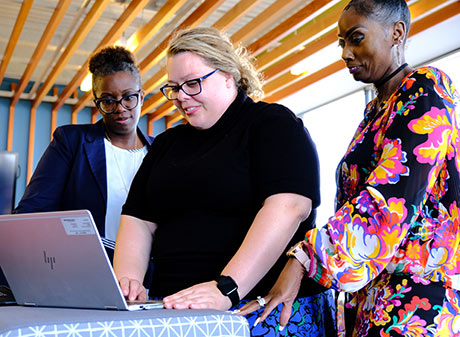 Advocacy Group for Minority-Owned Businesses Taps Bank Employee as Advocate of the Year
St. Louis Fed employee Monica Buren is the 2019 Advocate of the Year, according to the Mid-States Minority Supplier Development Council.
The MSDC is an advocacy group for minority-owned business enterprises in Central Illinois, Indiana and Eastern Missouri. The Advocate of the Year award honors outstanding individuals, from MSDC member organizations, who have gone above and beyond the call of duty to assist minority-owned business enterprises with procurement opportunities, development opportunities and feedback.
American CyberSystems, an MBE in St. Louis, nominated Buren, coordinator in Financial Management and the Bank's supplier diversity coordinator.
Buren's work on the St. Louis Fed Supplier Diversity Workshop reflect the type of work the Advocate of the Year award encourages. The Bank holds the annual workshop in the fall. The workshop builds relationships and drives economic development in the District. Specifically, the workshop introduces woman- and minority-owned businesses to the Bank and guides them on how to become a supplier for the Bank. Buren and a team from Financial Management plan the event and arrange for speakers from a variety of disciplines at the Bank.
If you've met Buren, then you know she is a bit of a networking guru—constantly setting up meetings with community organizations and businesses to advocate for minority- and women-owned business contracting opportunities. Her work supports the Bank's strategic plan by:
supporting the Bank's external communications and outreach goal by promoting awareness and understanding of the Bank's services and corporate citizenship
reinforcing the Bank's preferred employer goal by continuing execution of a comprehensive diversity and inclusion strategy, including operating an Office of Minority and Women Inclusion
Brian Gunter, manager in Financial Management, said, "Monica's passion for diversity and inclusion is infectious, which immediately resonates with her peers. While working at the Bank, she has been able to convert this passion into actionable opportunities for everyone to engage and participate in diversity and inclusion efforts."
Contact Monica Buren to learn more about the next supplier diversity workshop.