Just Saving My Money Lesson for Grade K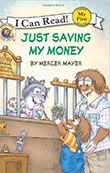 In this lesson, students learn about saving, savings goals, and income. They listen to the book Just Saving My Money by Mercer Mayer, a story about how Little Critter saves his money to buy a skateboard. Students use clues in the book's text and pictures to answer questions. After listening to the story, students play a game where they each have a savings goal, earn income, and save money until that savings goal is met. Students write math sentences to determine whether they have saved enough to reach their goals. Students also set their own savings goals and tell how they could earn income to meet them.
Parents: View the Q&A using Just Saving My Money.
This lesson plan is designed for teaching grade K.
Book written by Mercer Mayer / ISBN: 978-0-06-083557-6
---
If you have difficulty accessing this content due to a disability, please contact us at 314-444-4662 or economiceducation@stls.frb.org.
Find More Economics and Personal Finance Resources