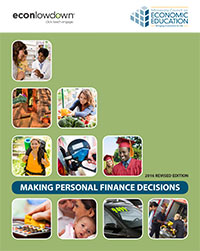 Help your students develop skills to make informed personal finance decisions. This 10-unit curriculum for students grades 9-12 provides everything you need to teach the basics of personal finance, including lesson plans, handouts, assessments, and PPT slides.
Grounded in economic concepts — scarcity, opportunity cost, human capital, decision making, stock and flow variables — these lessons are active, engaging and designed to connect personal finance with their lives today and in the future.
To receive your print copy of the Making Personal Finance Decisions curriculum, please complete the form below.
You will be added to our monthly Econ Lowdown e-newsletter that provides information about the newest resources and events from Econ Ed at the St. Louis Fed. You may unsubscribe at any time after you receive the first issue.