In 2009, Congress passed the most substantial reforms in the credit card industry in over 40 years - the Credit Card Accountability Responsibility and Disclosure of 2009 (the CARD Act). The CARD Act addresses many practices consumer advocates - and Congress - identified as problematic. Although the Truth in Lending Act of 1968 mandated disclosure of information about the costs (terms) of credit, there were few limits placed on the pricing practices (e.g., fees) of card issuers. Congress intended the CARD Act, often called the Credit Cardholders' Bill of Rights, to establish fair and transparent practices for credit cardholders. Put simply, the CARD Act offers cardholders protections that can save them money. Fair practices include lower fees and limits on interest rate increases. Transparent practices include better and timely communication so consumers know how much they are really paying for credit. This article reviews some of the reforms initiated by the CARD Act and their effects on credit card usage and consumer savings.
Credit Card Usage
Although credit card usage declined from 2006 to 2009, it rebounded soon afterward. As shown in Figure 1, from 2009 to 2012 the number of annual transactions increased substantially for both general-purpose and private-label credit cards.
General-purpose cards are issued by a major electronic payment network, such as Visa and MasterCard; are accepted by a wide variety of merchants; and include credit, debit, and prepaid cards. Private-label cards are merchant specific - usable only at a particular merchant or chain of merchants, such as Target and Macy's, and include credit and prepaid cards. Use of general-purpose credit cards for remote transactions (when the credit card is not present, e.g., online sales) continues to grow. In 2012, they accounted for two-thirds of all remote transactions.
In addition, from 2009 to 2012, the total dollar value of credit card transactions - how much is spent using credit cards - increased. In 2012, the credit card subset of general–purpose cards accounted for the highest dollar value of general-purpose card transactions (53 percent), followed by debit cards (44 percent) and prepaid cards (3 percent).1 From 2009 to 2012, the total dollar value for general-purpose credit card transactions increased by an average of 9.3 percent per year and 14.6 percent per year for private-label credit cards.2
Did the CARD Act make the difference in credit card usage? When implementation of the Act began, the economy was in a recession. The increase could be in response to the CARD Act, a weak economy, or both.
Figure 1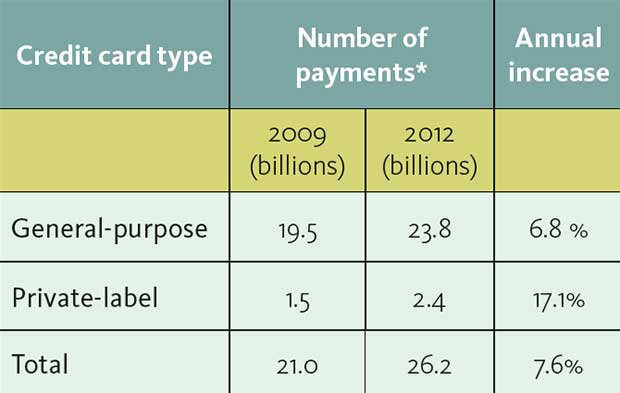 Over-Limit Fees
Each credit card carries a credit limit—that is, a maximum amount of money that can be borrowed on that card. Prior to the CARD Act, cardholders who exceeded their limit were automatically charged over-limit fees. From the mid-1990s through 2005, such fees more than doubled, from under $15 to over $30 per month; by 2008, the average monthly fee was $34.80.3 The CARD Act initiated new rules regarding over-limit fees: First, consumers must opt-in to allow transactions over their credit limit. If they opt-in, they agree to pay over-limit fees. If they do not opt-in, transactions that would exceed their credit limit will be denied. Second, over-limit fees must be reasonable and proportional to the violation and are set at $25 for a first violation and $35 for each subsequent violation within the next six months.
These new limits prevent the run-up in fees allowed prior to the CARD Act. For example, say you were charged an over-limit fee of $35 and then made your minimum payment. If that payment didn't take you below your credit limit, you would be charged the over-limit fee again on your next bill. With the old fee structure, some consumers could - and did - end up owing more and more every month.
Over-limit fees drastically declined after the implementation of the opt-in rule in February 2010, from an incident rate of 7.9 percent of active accounts in the fourth quarter of 2008 to a mere 0.4 percent by the fourth quarter of 2010.4 Although consumer behavior may have changed independent of the CARD Act, it is likely that the CARD Act is responsible for much, if not all, of the change.
Late Fees
When a credit card payment is not made on time, the cardholder must pay a late fee. Although the CARD Act did not change this fact, it established new rules regarding late fees. First, it redefines "late." Credit card issuers may no longer consider a payment late if the due date falls on a date the issuer does not receive or process mail (e.g., a weekend or holiday) and the payment is received in the mail the next business day. In addition, card issuers must keep the due date the same day each month and mail statements at least 21 days before that due date; statements must include a late-fee warning, the amount of the late fee, and any additional penalty assessed for a late payment. Finally, the Act requires that late fees be reasonable and proportional to the violation: $25 for a first violation and $35 for each subsequent violation within the next six months (the same as over-limit fees). From the mid-1990s to 2005, the average late fee rose from under $15 to over $30 and reached $33.08 by the second quarter of 2008 (see Figure 2).5 In the two years prior to the implementation of the new late-fees rules, the percentage of active accounts with a late fee ranged from a high of 26.1 percent in the third quarter of 2008 to a low of 24.2 percent in the fourth quarter of 2009.6 In the first full quarter after the new rules went into effect (the second quarter of 2010), the percentage dropped to 20.0 percent. The percentage remained relatively constant until the second half of 2012, when it increased to 22.2 percent, where it mainly held steady through 2013.
Did the CARD Act make a difference in the number of late fees assessed? Factors independent of the CARD Act, such as an improved economy, may have caused fewer late fees to be assessed. Another possible influence is the decrease in the number of subprime credit card cardholders (those with low credit scores), who are more likely to incur penalty fees. So, the extent to which the Card Act reduced the number of late fees is difficult to know for sure.
Figure 2

Annual Fees
Some credit cards charge an annual fee for the use of the card. Although the CARD Act did not address annual fees, its implementation likely increased these fees as card issuers looked to replace revenue lost because of the new rules. Beginning in the second quarter of 2010, there was an increase in the percentage of accounts with annual fees and in the average dollar amount of annual fees. As a result, in 2012, cardholders paid an additional $475 million in annual fees.7
APR Repricing
Credit cardholders pay interest in the form of one or several annual percentage rates (APRs) for the balances on their cards. For example, a card may offer an introductory APR that is later raised; purchases made during the introductory period incur the introductory rate (until paid off) and later charges incur the higher rate.
Prior to the CARD Act, cardholder agreements established a penalty APR triggered by certain cardholder behaviors. These triggers included delinquency on the account and delinquency on any other account held by the cardholder (a practice known as "universal default"). Additionally, cardholder agreements generally contained a provision permitting the issuer to increase the interest rate at any time and for any reason. Many issuers periodically reassessed the risk of their customers' accounts and changed the terms and raised the APRs of those considered more likely to default.
The CARD Act sharply curtailed repricing practices and strictly limits the circumstances in which issuers can increase the APR of existing balances. For rate increases that would affect future transactions, the card issuer is now generally required to give cardholders 45 days' written notice and then reassess the account at least once every six months and lowers the interest rate if warranted.
Overall, APR repricing declined after the implementation of the Act in February 2010 and now remains at low levels, falling from 6.7 percent of active accounts in the second quarter of 2008 to 1.5 percent in fourth quarter of 2012.8
APRs and Total Cost
As noted earlier, one credit card account may be charged a variety of APRs. In addition to an introductory offer, issuers sometimes offer cardholders limited-time promotional rates, for example, for balance transfers. In this case, cardholders can save money by obtaining a lower interest rate on a balance that they transfer from one card to another: That is, the first card's balance is paid off when the balance is transferred to the second card, which has a lower interest rate. Some credit cards offer cash advances, which are available through an ATM or bank, and charge a significantly higher cash-advance APR for this privilege. When an account has different balances at different interest rates, the order in which payments are applied to these various balances will impact the overall cost for the cardholder.
Prior to the CARD Act, payments made on an account with multiple APRs were applied to the balance with the lowest interest rate first. Now, card issuers must apply payments to the balance with the highest interest rate first. Although the Act doesn't directly set interest rates, this new rule essentially lowers the average rate for accounts with multiple APRs, allowing consumers to pay off balances more quickly.
Looking Forward
Implementation of the CARD Act, originally assigned to the Board of Governors of the Federal Reserve System, is now the responsibility of the Consumer Financial Protection Bureau (CFPB). The Act requires the Bureau to review the consumer credit market every two years, an important provision given technological advances and changing trends in consumer behavior. According to the CFPB, an ongoing challenge is "translating regulations related to disclosures largely written for a paper-and-pencil world into the modern electronic world.9" For example, minimum payment warnings are required only on paper and electronic billing statements. As use of online payment portals grows, more and more consumers may fail to see any minimum payment disclosure—thus defeating the purpose of the rule.
Additional areas of concern noted by the Bureau include add-on products (e.g., debt protection and identify theft protection) and rewards programs (e.g., points that can be used for travel).10 Deceptive marketing practices regarding add-on products are a specific concern, where the costs and terms of the product are not clear.11 Reward programs vary widely from card to card and can be difficult to understand and compare. For these and other concerns, the Bureau will continue to assess practices. In keeping with the intent of the CARD Act—to make practices fair and transparent for consumers—they will determine whether additional regulations are warranted.
With increased popularity of online credit card usage, security of personal information and unauthorized transactions using credit cards (third-party fraud) is a growing concern. According to the Federal Reserve System, "in 2012, the estimated number of unauthorized transactions (third-party fraud) was 31.1 million, with a value of $6.1 billion. Among the categories measured, 92 percent of the number and 65 percent of the value of total unauthorized transactions were made using general-purpose cards."12 The Fed further estimates that card-not-present fraud (remote transactions) is triple that of card-present fraud.13 Additional legislative protection may be needed to further protect cardholders.
Conclusion
Congress enacted the CARD Act to bring fair and transparent practices to the credit card industry. Consumer savings suggest success: Fees have been capped and must be clearly communicated in advance, saving consumers money and allowing them to make better-informed choices about spending. Over-limit fees, are now practically nonexistent, since the opt-in provision of the Act requires that cardholders must allow over-limit transactions in the first place. The percentage of accounts charged late fees has declined a few percentage points and remains steady, and the average late fee is lower now than in 2008. The Act sharply curtailed repricing practices, limiting the instances in which fees may be charged and allowing cardholders to pay off balances more quickly.
Overall, the Act required the credit card industry to shift away from complex, often-confusing pricing to pricing that is more predictable and easier to understand. The costs consumers now pay for using credit cards are more directly related to APRs and annual fees, making it easier for them to anticipate costs and avoid fees.
According to J.D. Power (2013), satisfaction of credit cardholders is at an all-time high (Figure 3). Is this satisfaction related to the CARD Act? It is difficult to know for sure, but it seems likely. From 2009 (before the Act) to 2012 (after implementation of the Act), credit card usage increased - both in the number of transactions and the overall value of transactions. This growth may be related to improved satisfaction with the credit card industry. To be sure, the CARD Act brought many improvements and has saved consumers money.
Figure 3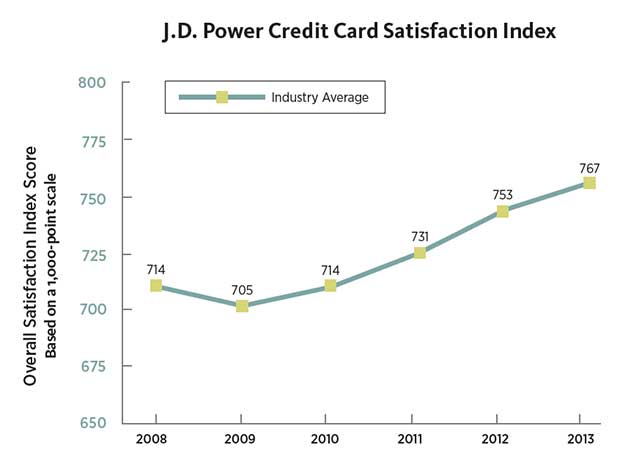 Endnotes
1 Federal Reserve System (2013, p. 14).
2 Federal Reserve System (2013, p. 41).
3 Consumer Financial Protection Bureau (CFPB; 2013, p. 20).
4 CFPB (2013, p. 21).
5 CFPB (2013, p. 22).
6 CFPB (2013, p. 24).
7 CFPB (2013, p. 25).
8 CFPB (2013, P. 8)
9 CFPB (2013, p. 28).
10 CFPB (2013, pp. 7-8).
11 CFPB (2013, p. 76).
12 Federal Reserve System (2013, p. 32)
13 Federal Reserve System (2012, p. 36).
References
Consumer Financial Protection Bureau. "CARD Act Report: A Review of the Impact of the Card Act on the Consumer Credit Market." October 1, 2013; http://files.consumerfinance.gov/f/201309_cfpb_card-act-report.pdf
Federal Reserve System. "The 2013 Federal Reserve Payments Study: Recent and Long-Term Payment Trends in the United States: 2003-2012; Summary Report and Initial Data Release." December 19, 2013; http://www.frbservices.org/files/communications/pdf/research/2013_payments_study_summary.pdf
J.D. Power. "2013 U.S. Credit Card Satisfaction Study." August 2013.