Economics for Life
The Federal Reserve Bank of St. Louis offers an online course for high school students. The course defines Gross Domestic Product (GDP), explains the difference between nominal and real GDP, defines per capita GDP, explains how economists measure economic growth, and discusses monetary and fiscal policy as related to GDP. This course is designed to help students in civics, economic and social studies classes understand challenging economic content - and explain why these topics are important for citizens to understand.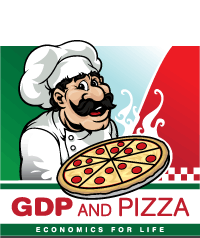 GDP and Pizza: Economics for Life includes:
an in-class pre- and post-assessment activity,
an online pre- and post-test with data reported to the teacher,
two online class periods of instruction that include reading and self-checks for understanding, and
video clips of an economist explaining the content.
To participate in a workshop or learn more about the course, contact:
Billy Britt in Little Rock at billy.j.britt@stls.frb.org,
David Ballard in Louisville at david.b.ballard@stls.frb.org,
Jeannette Bennett in Memphis at jeannette.n.bennett@stls.frb.org
Mary Suiter in St. Louis at mary.c.suiter@stls.frb.org.