1st Quarter 2004
| | | | | |
| --- | --- | --- | --- | --- |
| | Q2-03 | Q3-03 | Q4-03 | Q1-04 |
| Growth Rate—Real Gross Domestic Product | 3.1% | 8.2% | 4.1% | 4.2* |
| Inflation Rate—Consumer Price Index | 0.6% | 2.3% | 0.7% | 3.6% |
| Civilian Unemployment Rate | 6.1% | 6.1% | 5.9% | 5.6% |
*Advance estimate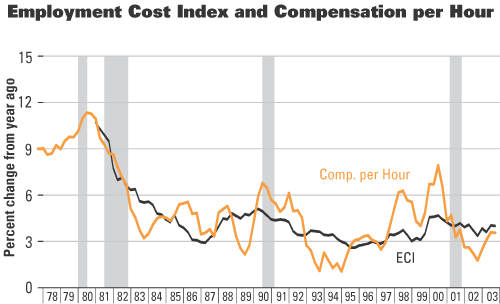 Graph from April 2004 issue of National Economic Trends.
What is the difference in the ECI and Compensation per Hour?
The ECI measures quarterly changes in compensation costs for nonfarm private and state and local government workers. ECI compensation refers to a fixed sample of jobs, while Compensation per Hour covers all workers in the nonfarm business sector in a given quarter. In both cases, compensation includes wages and salaries plus benefits.
What agency collects employment data?
The U.S. Department of Labor's Bureau of Labor Statistics conducts the National Compensation Survey (NCS). The NCS makes it easy to find information on occupational wages paid in or near your area. The NCS includes information on:
average hourly wages for up to 480 occupations;
weekly and annual earnings and hours for full-time workers; and
wage data shown by industry, occupational group and job level.
For more information, see the Bureau of Labor Statistics web site at www.bls.gov.