3rd Quarter 2004
| | | | | |
| --- | --- | --- | --- | --- |
| | Q4-03 | Q1-04 | Q2-04 | Q3-04 |
| Growth Rate—Real Gross Domestic Product | 4.2% | 4.5% | 3.3% | 3.7* |
| Inflation Rate—Consumer Price Index | 0.7% | 3.6% | 4.7% | 1.9% |
| Civilian Unemployment Rate | 5.9% | 5.6% | 5.6% | 5.4% |
*Advance estimate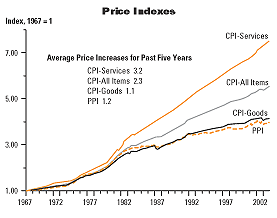 Graph from February 2003 issue of National Economic Trends.
What is the difference between the CPI and the PPI?
The Producer Price Index (PPI) is a family of indexes that measures the average change over time in selling prices received by domestic producers of goods and services. The PPI measures price change from the perspective of the seller.
PPIs contrast with other measures, such as the Consumer Price Index (CPI), that measure price change from the purchaser's perspective. Sellers' and purchasers' prices may differ due to government subsidies, sales and excise taxes, and distribution costs.
Why have goods prices risen so much more slowly than services prices?
Tremendous advances in technology and productivity in goods production have produced cost savings in manufacturing.