1st Quarter 1998
| | | | | |
| --- | --- | --- | --- | --- |
| | Q2-97 | Q3-97 | Q4-97 | Q1-98 |
| Growth Rate—Real Gross Domestic Product | 3.3% | 3.1% | 3.7% | NA |
| Inflation Rate—Consumer Price Index | 1.3% | 1.9% | 2.1% | 0.5% |
| Civilian Unemployment Rate | 4.9% | 4.9% | 4.7% | 4.7% |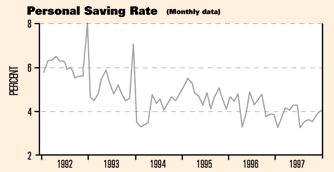 SOURCE: National Economic Trends, Federal Reserve Bank of St. Louis, February 1998.
What is personal saving?
Economist define personal saving as that part of after-tax income that is not consumed. Economists worry about low saving rates because saving is critical to the rate of capital accumulation, which, in turn, is related to economic growth, labor productivity and the standard of living. A low saving rate implies less capital, increased borrowing from other nations, or both.
Personal saving as a percent of disposable personal income has been falling steadily since the early 1980s. For example, the personal saving rate stood at roughly 8 percent in mid-1992, whereas recent estimates suggest that U.S. citizens saved less than 4 percent of their disposable income in 1997.