Beginning in the 1980s and 1990s, storefront payday loan businesses began to spring up across the country and quickly became commonplace. Today, there are approximately 20,000 storefront lenders,1 an average of 6.3 payday stores for every 100,000 people.2 By comparison, in 2012, there were 14,157 McDonald's restaurants in the United States.3 Additionally, payday loans are increasingly offered online. The growth and success of the industry shows that payday loans are in demand and fulfill a need for many people.
Payday lenders, a type of alternative financial service providers, tend to be concentrated in locations with higher-than-average poverty rates, lower income levels, more single parents, and some minority groups.4 For example, a 2013 study in California found more payday loan stores located in areas with higher percentages of blacks and Latinos and in areas with high poverty rates and lower levels of educational attainment.5 This essay provides an overview of payday loans, borrower characteristics and habits, and regulations.
What Are Payday Loans?
Payday loans are small-dollar, short-term loans generally for $500 or less. They are appropriately called "payday loans" because the duration of a loan usually matches the borrower's payday schedule. A balloon payment—full payment of the loan plus fees—is generally due on the borrower's next payday after the loan is made. The typical length of a payday loan is 14 days, but loan lengths vary based on the borrower's pay schedule or how often income is received—so the length could be for one week, two weeks, or one month. Borrowers who are paid more frequently could potentially take out many more loans over a given time period than borrowers who are paid monthly.
Payday Borrower Pay Frequency
---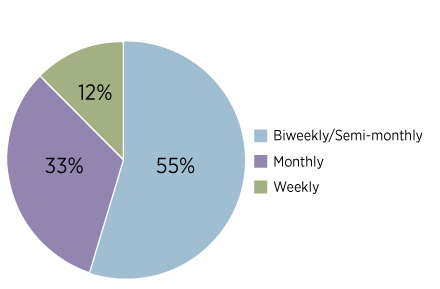 Payday loans are marketed as a convenient, short-term solution for quick cash. Unlike traditional loans, borrowers do not need to have a given credit score to get a payday loan. To qualify for a payday loan, a borrower needs proper identification, proof of income, and a checking account at a bank (or credit union). Although collateral is not needed for a payday loan, a borrower must provide one of the following: (i) a signed check to the lender for the full amount and dated for the due date of the loan or (ii) an authorization for the lender to electronically withdraw full payment from the borrower's bank account when the loan is due. For storefront loans, the lender agrees to hold the check until the loan is due (the borrower's next payday) and the borrower agrees to return to the storefront to pay the loan or to renew the loan and pay additional fees. In cases of nonpayment or nonrenewal of storefront loans, lenders may cash the provided check or withdraw full payment as agreed. For online loans, payment is automatically withdrawn from the borrower's bank account on the due date unless the borrower renews the loan. If the loan is renewed, the borrower withdraws only the fees due. This automatic-repayment structure allows lenders to be paid ahead of borrowers' other bills and expenses.
Payday lenders charge a set fee based on the amount borrowed, with typical fees ranging from $10 to $20 per $100 borrowed. The federal Truth in Lending Act requires lenders to state both the finance charge (fee) and that amount expressed as an annual percentage rate (APR).6 Comparatively, payday loans cost many times more than traditional loans and other mainstream forms of credit (such as credit cards).
$300 Loan Comparison
---
| Type of loan | Term | Fee | APR | Final cost |
| --- | --- | --- | --- | --- |
| Traditional | 1 year | NA | 10% | $330 |
| Payday | 14 days | $45 | 391% | $345 |
Payday Loan Customers
Nationwide, 5.5 percent of adults have taken out a payday loan in the past five years, with three-quarters borrowing from storefront lenders and the rest from online lenders.7 At the time of application for a payday loan, nearly 80 percent of payday loan borrowers have no available credit on credit cards and 90 percent have less than $300 of credit available on credit cards.8 Their median reported checking account balance is just $58.9 About one-fifth of the U.S. population (24 million households) is underbanked—that is, they have a bank account but use alternative financial services, such as payday loans. With no or low credit scores, underbanked consumers are often unable to get traditional loans.10
Most payday loan borrowers are white, female, and 25 to 44 years old. However, after controlling for other factors, the following groups have a greater likelihood of having used a payday loan: those with no four-year college degree, home renters, African Americans, those earning below $40,000 annually, and those who are separated or divorced.11 In addition, most payday loan borrowers have low incomes: According to a Consumer Financial Protection Bureau (CFPB) study, 56 percent had incomes between $10,000 and $30,000, while another 12 percent had incomes below $10,000.12 Three-quarters of borrowers were employed either part-time or full-time. Nearly 1 in 4 received income in the form of public assistance (government benefits) or other benefits or retirement funds.13
Payday Borrower's Distribution of Income by Source
---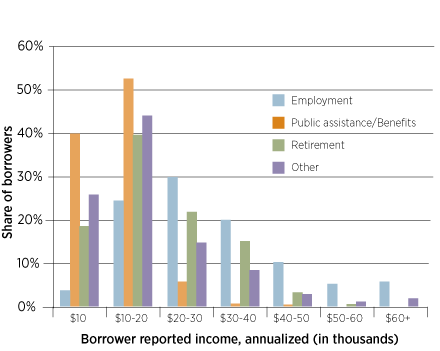 Cost and Frequency of Payday Loan Usage
Although marketed as a means to meet short-term credit needs, many consumers use payday loans to make up for ongoing cash-flow shortages. Nearly 70 percent of first-time customers turn to these loans to pay for recurring expenses such as utility, rent, mortgage, or credit card payments.14 Sustained use is common. For example, a borrower unable to repay a loan plus the fees by the due date, and still have enough money to meet other financial obligations, often "rolls over" (renews) a loan or repays the loan in full and then immediately takes out a new one. According to the 2013 CFPB study, the median payday loan consumer conducted 10 transactions over a 12-month period and paid a total of $458 in fees. One-fourth of borrowers paid $781 or more in fees.15 In addition, over 80 percent of payday loans are renewed or followed by another loan within 14 days—and each rollover or new loan means more fees.16 Because almost half of all loans are in a loan sequence that lasts 10 loans, it is common for fees to match or exceed the initial loan amount.17
State Regulation
Storefront payday loans are available in 36 states, and practices within states are determined by individual state regulations that address concerns such as repeat borrowing, cooling-off (waiting) periods between loans, loan limits, loan lengths, renewal restrictions, and effective APR caps.18 To add to the complexity, some states have payday loans structured with installment payments in which borrowers make multiple payments rather than the traditional single balloon payment.19 The many combinations of regulations within individual states create payday loans that are structured and priced differently—with some regulations leading to better financial outcomes for borrowers than others.
All payday lenders are subject to the specific usury laws of the state in which they operate. This limit on interest rates is the primary factor affecting fees.20 The four largest payday lenders in the United States charge similar fees within a given state, with fees set at or near the maximum allowed by law. In states with higher or no interest rate limits, lenders charge borrowers a much higher fee.
Borrowers in states with no rate caps—Idaho, South Dakota, Texas, and Wisconsin—pay the highest fees, more than double those paid in the states with lower interest rate caps. States with high or no rate limits tend to have the most payday loan stores per capita, and states with lower rate limits tend to have fewer stores, with each store serving more customers.21
New Federal Regulation
Historically, payday lending has been regulated by individual state law. However, the Dodd-Frank Wall Street Reform and Consumer Protection Act of 2010 established the CFPB to improve enforcement of federal consumer financial laws while expanding protective regulation, including for payday loans.22 This is significant because, for the first time, the entire payday loan industry will be regulated at both the state and federal level.
In January 2012, the CFPB began collecting extensive data on payday lending through in-depth research projects, surveys, and hearings. In November 2013, the CFPB began accepting consumer complaints about payday loans—online and by mail, fax, or phone. The director of the CFPB reports "thousands" of complaints submitted.23 Based on analysis of the data collected from the various sources, the CFPB will develop new federal regulations.
Conclusion
Payday loans provide a convenient and fast way to access needed money, and for some consumers they are the only available loan source. Their widespread use indicates they fulfill a great need. Although payday loans are marketed as short-term loans, the data suggest, however, that they become longer-term loans for many. With rollovers, the cost of the loan fees can surpass the amount of the original loan in a matter of weeks. As a result, extended payday loans become a financial burden for many consumers.
Based on a recent report from the Pew Charitable Trusts, it appears that payday loan customers have a love-hate relationship with this type of financing. The report states that "by almost a three-to-one margin, borrowers favor more regulation of payday loans. In addition, two out of three borrowers say there should be changes to how payday loans work. Despite these concerns, a majority would use the loans again."24 The challenge for state legislators and the CFPB going forward seems to be this: How should the payday loan industry be regulated to maintain access to short-term loans yet limit or prevent excessive debt?
Payday Lending Cost Comparison
---
| State | Average cost to borrow $300 per 2-week pay period* | Average cost to borrow $300 for 5 months† | APR |
| --- | --- | --- | --- |
| Texas | $70 | $701 | 454% |
| Tennessee | $49 | $490 | 426% |
| Missouri | $56 | $563 | 455% |
| Colorado | $16 | $172 | 129% |
Endnotes
Pew Charitable Trusts (2013b, p. 2).
Barth, Hamilton, and Markwardt (2013, p. 4).
Google (n.d.).
Mahon (2008).
Barth, Hamilton, and Markwardt (2013, p. 7).
Fox (1998, p. 2).
Pew Charitable Trusts (2012, pp. 4-5).
The credit cards may be maxed out or they may not have a credit card at all.
Bhutta, Skiba, and Tobacman (2014, p. 3).
Federal Deposit Insurance Corporation (2012, p. 4).
Pew Charitable Trusts (2012, p. 4).
Income used in this analysis may not reflect total household income because the borrower may receive income from more than one source or another person in the household may also have an income source.
CFPB (2013b, p. 18).
Pew Charitable Trusts (2012, pp. 4-5).
CFPB (2013a, p. 4)
CFPB (2013b, p. 22).
Burke et al. (2014, pp. 4-5).
Burke et al. (2014, p. 9).
Montezemolo (2013, p. 12).
CFPB (2013b, p. 9).
Pew Charitable Trusts (2014, pp. 1, 4).
Pew Charitable Trusts (2012, p. 2).
Cordray (2014).
Pew Charitable Trusts (2013b, p. 4)
References
Barth, James R.; Hamilton, Priscilla and Markwardt, Donald. "Where Banks Are Few, Payday Lenders Thrive: What Can Be Done About Costly Loans." Milken Institute, October 2013; http://www.pewtrusts.org/~/media/Assets/2013/02/PayDay_Loans_Report2Overview_FINALforWEB.pdf.
Bhutta, Neil; Skiba, Paige Marta and Tobacman, Jeremy. "Payday Loan Choices and Consequences." April 2014; http://assets.wharton.upenn.edu/~tobacman/papers/Payday%20Loan%20Choices%20and%20Consequences.pdf.
Burke, Kathleen; Lanning, Jonathan; Leary, Jesse and Wang, Jialan. "CFPB Data Point: Payday Lending." CFPB Office of Research, March 2014; http://files.consumerfinance.gov/f/201403_cfpb_report_payday-lending.pdf.
Center for Responsible Lending. "Payday Lending Basics." N.d.; http://www.responsiblelending.org/payday-lending/tools-resources/payday-lending-basics.html.
Center for Responsible Lending. "The Military Lending Act of 2006." 2006; http://www.responsiblelending.org/payday-lending/research-analysis/Summary-of-MLA.pdf.
Consumer Financial Protection Bureau. "Consumer Financial Protection Bureau Study Finds Debt Trap Concerns With Payday And Deposit Advance Loans." April 24, 2013a; http://files.consumerfinance.gov/f/201304_cfpb_payday-factsheet.pdf.
Consumer Financial Protection Bureau. "Payday Loans and Deposit Advance Products: A White Paper of Initial Data Findings." April 24, 2013b; http://files.consumerfinance.gov/f/201304_cfpb_payday-dap-whitepaper.pdf.
Cordray, Richard. "Director Richard Cordray Remarks at the Payday Field Hearing." Consumer Financial Protection Bureau, March 25, 2014; http://www.consumerfinance.gov/newsroom/director-richard-cordray-remarks-at-the-payday-field-hearing/.
Federal Deposit Insurance Corporation. "2011 FDIC National Survey of Unbanked and Underbanked Households." September 2012; https://www.fdic.gov/householdsurvey/2012_unbankedreport.pdf.
Fox, Jean Ann. "The Growth of Legal Loan Sharking: A Report on the Payday Loan Industry." Consumer Federation of America, November 1998; http://www.consumerfed.org/pdfs/The_Growth_of_Legal_Loan_Sharking_1998.pdf.
Google. "McMap of the World." N.d.; https://docs.google.com/spreadsheet/ccc?key=0At6CC4x_yBnMdG5NcUZTNkkxN2dBRHQzWFVJbHZHMFE&usp=sharing#gid=0.
Mahon, Joe. "Tracking 'Fringe Banking.'" Federal Reserve Bank of Minneapolis fedgazette. September 1, 2008; http://www.minneapolisfed.org/publications_papers/pub_display.cfm?id=4030&.
Montezemolo, Susanna. "Payday Lending Abuses and Predatory Practices: The State of Lending in America & Its Impact on U.S. Households." Center for Responsible Learning, September 2013; http://www.responsiblelending.org/state-of-lending/reports/10-Payday-Loans.pdf.
Pew Charitable Trusts. "How State Rate Limits Affect Payday Loan Prices." April 2014; http://www.pewtrusts.org/~/media/legacy/uploadedfiles/pcs/content-level_pages/fact_sheets/StateRateLimitsFactSheetpdf.pdf.
Pew Charitable Trusts. "Data Visualization: Payday Loan Affordability Fast Facts." February 20, 2013a; http://www.pewtrusts.org/en/multimedia/data-visualizations/2013/payday-loan-affordability-fast-facts.
Pew Charitable Trusts. "Payday Lending in America: Report 2—How Borrowers Choose and Repay Payday Loans." February 2013b; http://www.pewtrusts.org/~/media/Assets/2013/02/PayDay_Loans_Report2Overview_FINALforWEB.pdf.
Pew Charitable Trusts. "Payday Lending in America: Who Borrows, Where They Borrow, and Why." July 2012; http://www.pewtrusts.org/~/media/legacy/uploadedfiles/pcs_assets/2012/PewPaydayLendingReportpdf.pdf.