1. For a typical two-week payday loan, a borrower pays $15 in fees for every $100 borrowed. Loan renewal is common, with additional fees charged. Based on the chart below, how many times has this "typical" loan been renewed (as expressed by the number of transactions)? What is the correlation between the number of renewals and the amount of fees charged? (Note: The first transaction (1) is the original loan. Renewals start with the second transaction.)
Payday Loan Fees vs. Credit Extended
---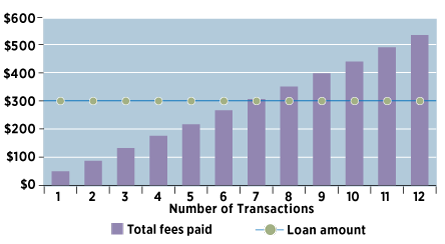 2. Payday lenders offer loans in storefronts and online. Based on the chart below, which source do consumers prefer? Why do you think this is their preference?
How People Obtain Payday Loans
---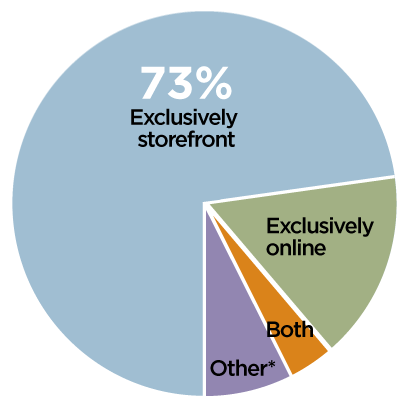 By far, consumers prefer conducting business at storefront businesses rather than online. Reasons for this preference may include the friendly and personal service provided at storefronts and insecurity about identity theft, which is a risk when sharing personal and financial information over the Internet.
Many consumers find it difficult to repay a payday loan according to the terms of the loan. Basically, many borrowers do not have enough regular income to support the repayment of a payday loan while meeting other financial obligations.

4. Based on the left-hand chart below, what percentage of payday loan borrowers said a payday loan directly caused a checking account overdraft? Based on the right-hand chart below, why are payday borrowers likely to have checking account overdraft?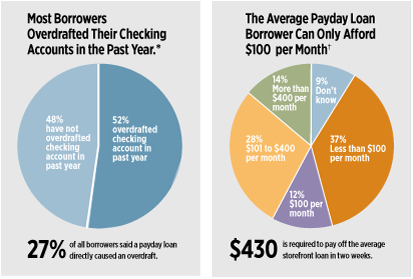 NOTE: *Data represent percentages of payday loan borrowers who gave the listed answer. Respondents were asked: "I'm going to read several types of financial products and services. For each one, please tell me whether you have used that product or service in the past year. Have you used overdrafting on your checking account in the past year?" Results are based on interviews with 565 payday borrowers in the survey who still had a checking or savings account at the time they took the survey. Interviews were conducted from December 2011 through April 2012.

5. According to the chart below, how does the number of loan transactions correlate to the highest percentage of borrowers and largest amount owed by borrowers?


Distribution of Loan Use, Volume, and Fees
---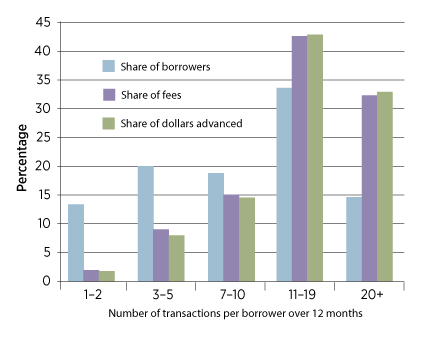 6. Payday loans are marketed as a short-term financial solution for consumers with temporary cash shortages—for example, in an emergency or to pay a bill. According to the chart below, what percentage of payday loan borrowers will most likely repay a loan in full by the due date? What percentage of borrowers will most likely renew a loan?
The Majority of Payday Borrowers Have Trouble Meeting Bills at Least Half the Time
---
Frequency of Trouble Meeting Bills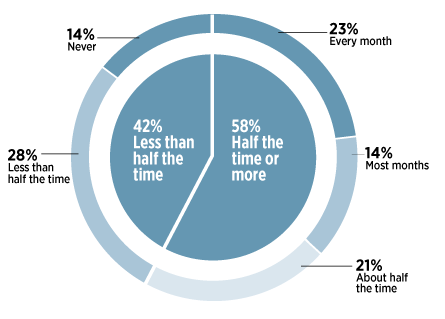 The 14 percent of borrowers who never have trouble meeting bills will most likely repay a loan by the due date. The 23 percent of borrowers who have trouble meeting bills every month will most likely renew a loan. However, individual choices javascript:void(0);could influence the repayment percentages.