Figure 2
Overpayments Due to Fraud by Cause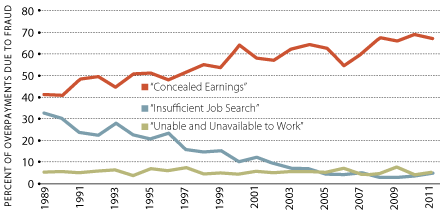 Overpayments and Fraud
Some unemployment benefit payments have indeed been overpayments, as recent newspaper reports suggest. Figure 1 illustrates the amounts overpaid. The average overpayment as a fraction of benefits during 2007-2011 was 11 percent. For example, during the middle of the recent recession in 2008, total unemployment benefits were $40 billion and total overpayments were $4 billion.
The overpayments could stem from simple typographical errors on one extreme to outright fraud on the other extreme. For example, an individual's benefit may be inadvertently set too high because the wrong formula was applied. This represents a simple error. Fraud, on the other hand, is a deliberate act. During 2007–11, overpayments due to fraud accounted for 25 percent of all overpayments and 3 percent of all payments on average (see Figure 1). Put differently, overpayments due to fraud were roughly a fourth of the total overpayments.
Types of Fraud
The Benefit Accuracy Measurement (BAM) program run by the U.S. Department of Labor classifies fraud in 28 categories. The dominant form of unemployment insurance fraud in recent years is what's classified as "Concealed Earnings" fraud: collection of unemployment benefits by individuals who are gainfully employed. As Figure 2 illustrates, overpayments from Concealed Earnings fraud have been steadily rising over the past 22 years and were almost 70 percent of the overpayments due to fraud in recent years.
Recent headlines on prisoners collecting unemployment benefits fall under "Unable and Unavailable to Work" fraud. This category includes cases where an unemployed person is not healthy enough to work or is in school, for example. Overpayments due to the entire Unable and Unavailable to Work category amounted to barely 5 percent of fraud in 2011.
Meanwhile, overpayments due to "Insufficient Job Search" (cases where the unemployed individual did not, but claimed to meet the mandatory work search requirement, such as the minimum number of job applications to be filed each week) have been declining and are down to less than 5 percent of fraud.
Unclaimed Benefits
Some unemployed persons never seek benefits. Although overpayments have grabbed recent headlines, only 35 percent of the unemployed have been collecting benefits over the past 22 years on average. Not all of these people are eligible to collect benefits, however. For instance, the typical duration of unemployment benefits is 26 weeks, and a person who continues to be unemployed past 26 weeks is not eligible.
During the recent recession (2007-09), roughly 50 percent of those eligible were collecting benefits. The fraction increased to 95 percent in 2011. In Figure 3, we illustrate the number of people who could have collected unemployment benefits but chose not to do so.
Figure 3 also illustrates a back-of-the-envelope calculation. If all of those who are eligible to collect unemployment benefits were to indeed collect the benefits, what would be the additional expenditures for the unemployment insurance program? The additional expenditures in 2009, toward the end of the recent recession, would have been a whopping $108 billion. As Figure 3 illustrates, the overpayments in 2009 were $11 billion. On average, more unclaimed benefits are left on the table than improper benefits taken off the table.
Figure 3
Overpayments and Potential Uncollected Benefits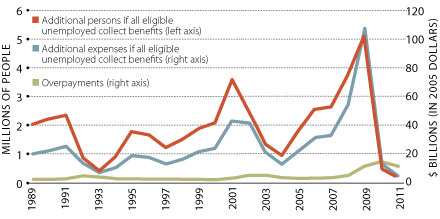 Looking at the unemployment insurance program over the longer horizon, overpayments are less than one-tenth of the benefits paid, overpayments due to fraud are less than 3 percent of the benefits paid, and unclaimed benefits are nearly seven times the overpayments. Although reducing the overpayments would clearly help reduce the expenditures for the unemployment insurance program, a higher fraction of eligible people choosing to collect unemployment benefits would significantly increase the expenditures for the program.


Endnotes
We obtain the nominal actual outlays from the Department of Labor, and convert them to 2005 dollars using the GDP deflator in the FRED database,. [back to text]