Third Quarter 2005
| | | | | |
| --- | --- | --- | --- | --- |
| | Q4-04 | Q1-05 | Q2-05 | Q3-05 |
| Growth Rate-Real Gross Domestic Product | 3.3% | 3.8% | 3.3% | 3.8% |
| Inflation Rate-Consumer Price Index | 3.6% | 2.4% | 4.2% | 5.1% |
| Civilian Unemployment Rate | 5.4% | 5.3% | 5.1% | 5.0% |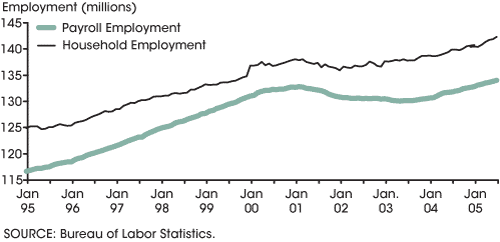 SOURCE: Data from September 2005 National Economic Trends.
What is the difference in the household and payroll employment numbers that are published monthly by the Bureau of Labor Statistics (BLS)?
The household employment is calculated from the Current Population Survey (CPS), which the U.S. Census Bureau conducts by collecting data from approximately 60,000 households. The payroll employment is calculated from the Current Employment Statistics (CES) Survey, in which the BLS and state employment security agencies collect data from approximately 400,000 business establishments each month.
Why is there a difference in the two numbers?
The BLS notes that part of the discrepancy might be due to factors that are hard to measure, such as the following:
In estimating payroll employment, the BLS adjusts for new openings and closings of businesses, perhaps imperfectly.
Workers who change jobs within the reference week will be counted twice in the CES survey, even though they hold no more than one job.
Workers who are paid "off the books" show up in the household employment number but not in the payroll number.