3rd Quarter 2004
| | | | | |
| --- | --- | --- | --- | --- |
| | Q4-03 | Q1-04 | Q2-04 | Q3-04 |
| Growth Rate - Real Gross Domestic Product | 4.2% | 4.5% | 3.3% | 3.7* |
| Inflation Rate - Consumer Price Index | 0.7% | 3.6% | 4.7% | 1.9% |
| Civilian Unemployment Rate | 5.9% | 5.6% | 5.6% | 5.4% |
*Advance estimate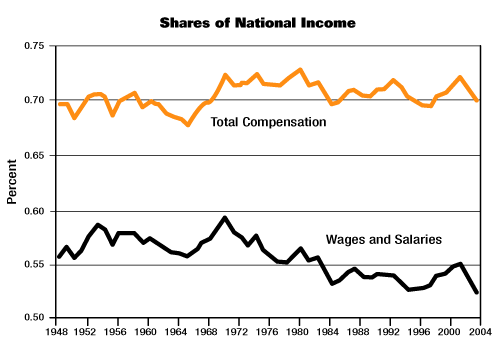 Graph from August 2004 issue of National Economic Trends.
What does total compensation as a percentage of national income mean?
Over the past 50 years, labor's share of national income has averaged 70.5 percent and is, therefore, a much larger portion of national income than the portion that goes to owners of capital.
What is the difference in total compensation (orange line) and wages and salaries (black line)?
Total compensation includes employer-paid social insurance contributions and benefits such as health care, pension plan contributions, etc. This chart indicates that while wages and salaries have declined from 58 percent of national income in 1970 to 52 percent in 2003, total compensation as a percent of national income has remained fairly stable.