U.S. agriculture has been booming in recent years with record farm incomes and double-digit percentage increases in cropland prices. However, farm income projections suggest a flattening, if not a reversal, of these trends. 2013 may prove to be a peak year, as analysts expect the agriculture sector to experience lower commodity prices, normal crop production and lower farm income over the next several years. Volatile weather patterns and other competitive factors, however, impact the reliability of such forecasts.
Farm Sector Income
Net farm income, as illustrated in Figure 1, has more than doubled since 2000 and is expected to reach a record $131 billion in 2013. On a cash basis, income may fall slightly short of 2012 results, as farmers are storing significant amounts of corn in anticipation of a recovery in corn prices. In the near-term, this may be good news for agriculture bankers, who may experience a pickup in loan demand as farm working capital contracts. Record-setting crop production has driven earnings results this year, despite the collapse in prices.
FIGURE 1
Net Farm Income and Net Cash Income, 2000–2013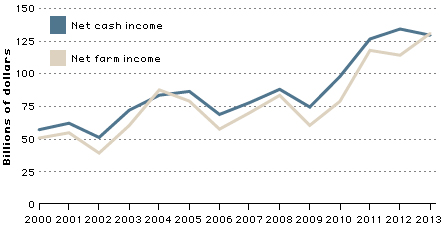 FIGURE 2
Farm Sector Debt Ratios, 1970–2013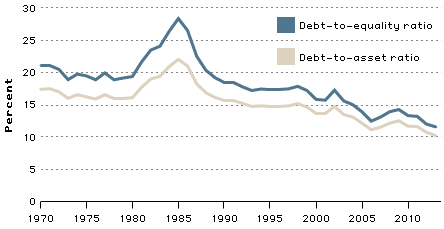 Profit Bubble and Cropland Values
While the agricultural profit bubble observed in recent years shows early signs of deflating, the average gains in U.S. cropland continue. Further, with multiple years of double-digit percentage increases in cropland gains, dramatic increases in commodity prices and low interest rates, some economists and analysts are concerned that an asset bubble exists in certain U.S. cropland markets. The Northern Plains and Corn Belt regions continued to see persistent double-digit percentage increases in annual cropland price gains in 2013.
Based on the U.S. Department of Agriculture's latest annual survey, the average value of all U.S. cropland was $4,000 per acre, representing a 13.0 percent year-over-year increase and a 49.8 percent five-year increase, as shown in Figure 2. However, regional differences provide a more complete picture. Average cropland prices in the Northern Plains rose 25.0 percent year over year and 126.9 percent over the past five years. The Corn Belt averaged a 16.1 percent year-over-year price gain and a five-year increase of 78.5 percent. By contrast, the Southeast region experienced an average year-over-year decrease in cropland prices of 2.8 percent and a five-year decline of 13.8 percent. The highest nominal land price value was found in the Corn Belt, at an average price of $6,980 per acre. Among Corn Belt states, Iowa has the highest average cropland price at $8,660 per acre, followed by Illinois and Indiana at $7,900 and $7,100 per acre, respectively. The Missouri average is the lowest in the Corn Belt at $3,800 per acre.
The expected decline in farm income over the next several years and a potential rise in long-term interest rates should put some downward pressure on land values. To that end, Reserve banks' third-quarter agriculture surveys are indicating some mixed responses on future land price increases. Perhaps this mixed data is a first sign of a price softening that would rationally follow a somewhat dimmer outlook for crop producers. Given the current strength of the farm sector, however, as indicated by historically low debt-to-equity and debt-to-asset ratios, the agriculture industry appears poised to transition to more normalized conditions if and when they occur.
FIGURE 3
Five-Year Change in Cropland Prices by Region (2009–2013)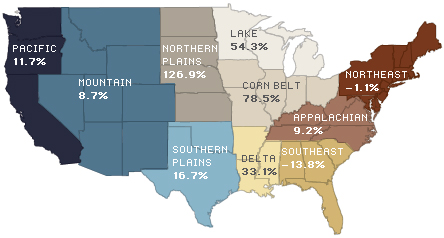 Farm Sector Balance Sheets
Unlike the boom/bust farmland cycle of the 1980s, a commensurate rise in farm leverage has not occurred during this period of rapid land price increases. Broadly, the sector's debt-to-asset ratio has fallen during the price increase and stands at a historically low 10.3 percent according to the USDA. This debt-to-assets ratio is less than half of the 1980s farm crisis peak ratio of 22.2 percent.
The 1980s farm crisis followed a period of rapid farmland price increases similar to what has occurred since 2007. A 30 percent price decline today, similar to what occurred in the 1980s, would raise the sector's debt-to-asset ratio modestly to 13.7 percent, well below the peak ratio from the 1980s. Although the stronger balance sheets of today's farm sector may be better able to withstand a 1980s-type price correction, a 30 percent price decline would still destroy most of the land-centric wealth created since 2007.
TABLE 1
Eigth District States' Five Year Change in Cropland Values
| | 2009 Avg. Value | 2013 Avg. Value | Five-Year Percentage Change |
| --- | --- | --- | --- |
| Illinois | $4,670 | $7,900 | +69.2% |
| Indiana | $3,950 | $7,100 | +79.8% |
| Missouri | $2,540 | $3,800 | +49.6% |
| Kentucky | $3,150 | $3,750 | +19.1% |
| Tennessee | $3,270 | $3,550 | +8.6% |
| Arkansas | $1,860 | $2,560 | +37.6% |
| Mississippi | $1,810 | $2,300 | +27.1% |
Conclusion
Overall, the U.S. farm sector has enjoyed an extended period of historically high income and land-centric wealth building. Farm real estate accounts for more than 80 percent of farm assets, so cropland values matter. Leverage associated with cropland value gains has remained prudent, which bodes well for the sector in an inevitable downturn. On the other hand, farm working capital may decline as more inventories are stored. This holdback may spur a higher demand for credit. Whether this credit demand materializes, however, is yet to be seen.
Endnotes
Northern Plains states include Kansas, Nebraska, North Dakota and South Dakota. Corn Belt states include Illinois, Indiana, Iowa, Missouri and Ohio. []