While still significantly elevated, the volume of nonperforming loans—those loans 90 days or more past due or in nonaccrual status—has declined for many banks across the country. The largest banks in the United States are signaling they have turned the corner on asset quality issues, evidenced by their shrinking provision expenses (or charges against earnings to build loan loss reserves) and rising profits.
Chart 1
Nonperforming Loans / Total Loans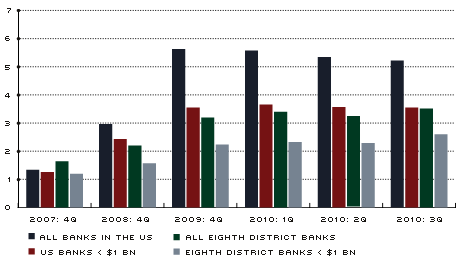 Chart 2
Nonperforming Loans + OREO / Total Loans + OREO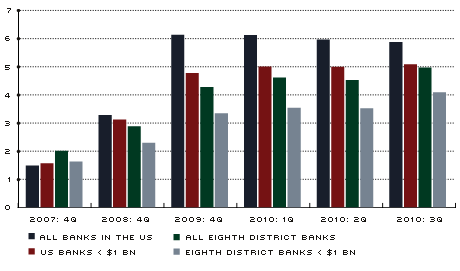 Unfortunately, this improving national trend is not emerging across the Eighth District. As illustrated in Chart 1, nonperforming loans appear to have peaked in volume at year-end 2009 across all banks in the U.S. and seemingly one quarter later for all U.S. banks with less than $1 billion in total assets. For Eighth District institutions, however, the ratio climbed after a modest decline in the second quarter.
The reversal in trend is magnified when the growth in banks' other real estate owned accounts (OREO) is considered. Chart 2 combines bank nonperforming loans with the nonearning assets that have migrated into banks' other real estate owned accounts. As shown by the chart, the ratio of nonperforming loans plus OREO to total loans plus OREO continues to increase. For the District's smallest banks, the change has been the most dramatic since year-end 2009.
In contrast, the same ratio declines slightly for all banks in the U.S. This composite, however, is dominated by a handful of very large, diversified institutions that are less reliant on commercial real estate lending. Their performance is generally not representative of Eighth District institutions.
The exposure of Eighth District and community banks to commercial real estate and related loan losses remains high. Weakness in economic factors that underlie commercial real estate fundamentals, such as employment and income growth, also remain elusive. In some cases, the passage of time could force further recognition of difficult lending relationships as borrowers exhaust their remaining options and collateral cash flows weaken.
As such, without clear, sustained improvement in the present and future quarters, it appears that many community and Eighth District banks will continue to experience significant asset quality problems well into 2011.