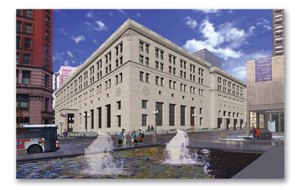 The St. Louis Fed has announced that it will renovate its downtown St. Louis facilities to enhance security and increase its physical space. This is the first significant expansion the Bank has undertaken in about 60 years—since the Bank bought the northern building, a former department store located on St. Charles Street, and refurbished it.
After the terrorist attacks of Sept. 11, 2001, the Bank made substantial upgrades and improvements to its current buildings; however, more improvements were required and several departments had outgrown their work areas. The Bank examined several alternatives—including moving out of downtown St. Louis. After a thorough analysis, however, the decision was made to renovate the downtown facilities.
Many improvements are planned over the next few years. The Bank will demolish its current garage, creating a new and improved secure area for employees, visitors and customers. On top of this new area, the Bank will also add another 54,000 square feet of office space.
The first step of the renovation includes acquiring the Marquette Garage, located on the corners of Broadway and Locust streets. This new garage will provide parking around the clock for most of the 900 employees who work in St. Louis. The renovations will begin in 2004 and are scheduled for completion in 2008.