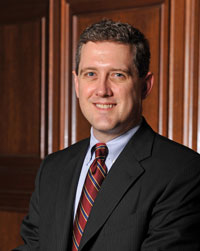 Too often, says new St. Louis Fed President Jim Bullard, economics is regarded as a mere college subject.
"Many people think economics is too com­plicated. Not everyone goes to college; so, not everyone gets it—even though they live with the consequences of supply and demand every day," Bullard says. "We live in a market system, and people need to understand how that system works."
Bullard, who succeeded Bill Poole as president April 1, is an advocate of the power of economic ideas and financial literacy. He pursued those ideals through 18 years of study in the St. Louis Fed's Research division, as well as through professional associations and speaking engagements. Since joining the Fed, Bullard has already spread this message to many groups in the Eighth District.
He's also well-versed on monetary policy, having worked closely with Poole on briefings before each Federal Open Market Committee meeting. Bullard's expertise in monetary policy and familiarity with FOMC procedures are among the many reasons why he was tapped for the job.
"I've seen many of the events of the recent years from the inside out, including the Asian currency crisis, the bursting of the tech bubble and the S&L predicament. By intimately knowing monetary policy, I'm not coming in cold during a time when the situation is very tense," he says. "It's actually the most tense it's been since 1980."
The key thing for commercial bankers to keep in mind, Bullard says, is that the U.S. economy is resilient and has weathered many shocks over the years. "We'll get through this one as well. The economy continues to surprise at how it adapts and comes back," he says.
Bullard, 47, was appointed president by the St. Louis Fed's Board of Directors after an extensive search and was approved by the Fed's Board of Governors. Read Bullard's full biography.