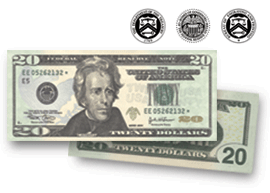 In their ongoing efforts to stay a step ahead of counterfeiters, the Federal Reserve System and the U.S. Treasury Department are once again launching a redesign of U.S. currency. But this latest revamp is no small change. For the first time since 1905, paper money will feature colors besides black and green.
The Series-2004 currency redesign effort, unveiled in May by the Bureau of Engraving and Printing, gets under way in late 2003 when the new $20 note will be issued. The new $50 and $100 will follow, in 2004 and 2005, respectively. (A future redesign of the $10 and $5 notes is still being considered, but no changes are planned for the $2 and $1 bills.)
The most noticeable difference in the redesigned bills is the addition of subtle background colors on each side of the new notes—with different colors planned for each denomination. The colors will help visually impaired consumers, in particular, tell one denomination from another.
But the Fed and Treasury's primary goal in spicing up the color palette of our currency is to throw yet another roadblock in the path of counterfeiters, with the hope that the burden of copying extra colors will be enough to discourage many would-be criminals.
In doing so, the Fed and Treasury hope to duplicate or exceed the success of the last currency redesign, in 1996, which has resulted in lower counterfeiting rates despite advances in computer and printing technology that have made counterfeiting easier and cheaper. (See below.)
The new $20 design does retain three important security features that were major components of the 1996 series: a faint watermark image, a security thread and color-shifting ink so that the numeral in the lower-right corner of a note changes color when the note is tilted. The new notes include a more dramatic color shift, making it even easier for consumers to check their money.
In addition, each denomination of the new currency will feature different symbols of freedom on the face of the notes. The currency will still keep its traditional look, with notes remaining the same size and bearing the same--but enhanced--portraits and historical images.
With the introduction of Series-2004, the Fed and Treasury are launching a broad public-education program, targeting cash-handlers (such as cashiers and bank tellers), merchants and associations that represent key industries and audiences. The campaign will include training materials, public service announcements and even mentions of the new money in the story lines of popular television shows.
For more information on training materials, as well as updates on when the redesigned currency will be available, visit the St. Louis Fed's web site, www.stlouisfed.org.