Housing markets generally have served as reliable bellwethers of economic conditions during recent decades. But while some measures of Eighth District housing-market activity recently showed signs of life, it's not clear yet if it is cause for cautious optimism in the economic outlook.
Historically, home-building activity usually declines a year or two in advance of a broad economic slowdown or recession, while inflation-adjusted house prices often stagnate or decline during the months preceding the economic downturn. When the economy eventually stabilizes and begins to grow again, home building, home sales and house prices usually pick up before other economic vital signs, such as employment, have shown meaningful improvement. The 2001 recession was a rare exception to this rule, as Figure 1 shows. In that instance, home building and house prices remained strong even as the overall economy weakened.,
Figure 1
U.S. House-Price Index and Coincident Economic Activity Index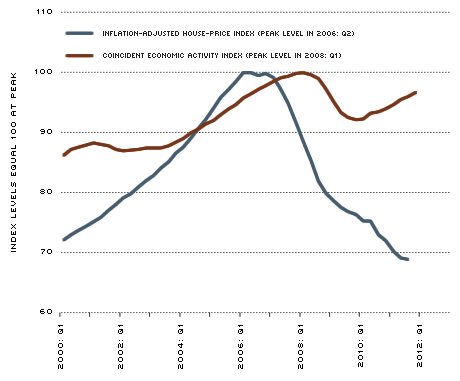 Housing markets usually are key economic indicators in the Eighth District too. Home-building activity in most parts of our District reached a peak in late 2005. Eighth District home prices, adjusted for inflation, reached peaks as early as the first quarter of 2005 in Indiana, with all other district states hitting their high points between the first quarter of 2006 and the first quarter of 2007. (See Table 1 below.)
Table 1
Real House-Price and Economic Activity Index Peaks
| | Peak Quarter for Inflation-Adjusted (Real) FHFA House-Price Index | Peak Quarter for the Philadelphia Fed Coincident Economic Activity Index | Quarters between Real House-Price Peak and Economic Activity Index Peak |
| --- | --- | --- | --- |
| U.S. | 2006: Q2 | 2008: Q1 | 7 |
| Eighth District States Average | 2007: Q1 | 2008: Q1 | 4 |
| Arkansas | 2006: Q4 | 2008: Q1 | 5 |
| Illinois | 2007: Q1 | 2008: Q1 | 4 |
| Indiana | 2005: Q1 | 2007: Q4 | 11 |
| Kentucky | 2006: Q1 | 2007: Q4 | 7 |
| Mississippi | 2007: Q1 | 2008: Q1 | 4 |
| Missouri | 2006: Q1 | 2007: Q4 | 7 |
| Tennessee | 2007: Q1 | 2008: Q1 | 4 |
In turn, economic conditions in states in the District reached their peaks in the last quarter of 2007 or the first quarter of 2008, as the middle column of data in the table indicates. Across our District and the nation, a peak in inflation-adjusted house prices gave between four and 11 quarters advance warning of the deep recession that hit in late 2007.
2012 Housing Market Indications
If housing markets serve as bellwethers for local economies heading into as well as out of a downturn, what do current housing-market indicators suggest for Eighth District economies as 2012 gets underway? Figure 2 shows that an average of Eighth District inflation-adjusted house-price indexes appeared to be trending downward through the first half of 2011, although the last data point, for the third quarter of 2011, showed an uptick.
Figure 2
Eighth District House-Price Index and Coincident Economic Activity Index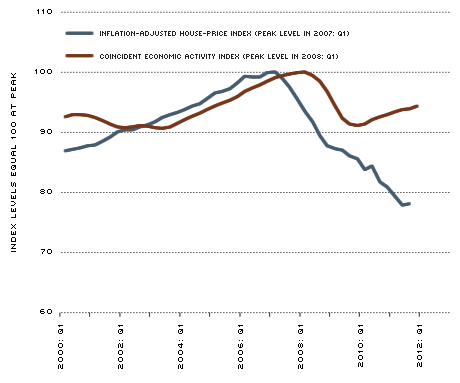 Likewise, home-building activity showed some signs of life near the end of 2011, albeit from an historically depressed level. Based on the weak housing market data alone, the economic recovery that has been underway since mid-2009 is surprising. Housing market problems may well help explain why the recovery has been weak, both in our District and nationwide.
In Conclusion
Housing market indicators suggest challenges for the 2012 economic outlook for Eighth District states. Moreover, even if housing markets begin to show strength as 2012 unfolds, the broader economic vigor they might be anticipating could take some time to materialize.
The surprising strength of housing probably was due to several unusual factors, including the brief and mild nature of the recession, strong demand for housing as a "safe asset" in the wake of a large stock market decline, and falling mortgage rates after mid-2000. The 30-year fixed-rate mortgage fell from 8.5 percent in May 2000 to 5.25 percent by June 2003. [back to text]
The Federal Reserve Bank of Philadelphia's Coincident Economic Activity Indexes are statistically derived measures of overall economic strength for the nation and each of the 50 states. Each index is based on four economic indicators for a particular state: nonfarm payroll employment, average hours worked in manufacturing, the unemployment rate, and wage and salary disbursements deflated by the consumer price index. See www.philadelphiafed.org/research-and-data/regional-economy/indexes/leading/ for more details and historical data for the indexes. [back to text]
Nationally, the recession began in December 2007 and continued until June 2009, as determined by the National Bureau of Economic Research. Arkansas and Mississippi experienced somewhat milder downturns than the nation as a whole, per the Philadelphia Fed's Coincident Economic Activity Indexes. Tennessee tracked the nation very closely through the recession, while Illinois, Indiana, Kentucky and Missouri suffered noticeably deeper recessions than the national average. [back to text]