The Troubled Asset Relief Program (TARP) was created to stabilize the financial system during the financial crisis of 2008. Congress authorized $700 billion through the Emergency Economic Stabilization Act of 2008, and the program is overseen by the U.S. Department of the Treasury. TARP is generally seen as one of the federal government's primary responses to the financial crisis.
Usage of TARP Funds
While widely known for use in the bank Capital Purchase Program (CPP), TARP funds were also used to make loans and direct equity investments to select auto industry participants, backstop credit markets, provide a lifeline to the American International Group (AIG) and provide ongoing support for government housing initiatives.
The Treasury Department is actively exiting its remaining investments made under its CPP and auto industry and credit market programs and has already closed several other bank investment programs and its investment in AIG. It has not, however, taken specific actions to exit from its Community Development Capital Initiative. Moreover, the TARP housing program remains active with additional funding allocations. As of Sept. 30, $421 billion has been deployed through TARP, although existing obligations may raise the total to $457 billion. (See Table 1 below.)
TABLE 1
Financial Status of TARP Initiatives
TARP initiatives
Treasury obligation (billions)
Disbursed
Outstanding investment balance (billions)
Estimated lifetime gain (loss) (billions)
Banking programs
$250.46
$245.46
$2.84
$23.93
Credit market programs
20.08
19.09
0.00
3.36
Automotive programs
79.69
79.69
19.87
(14.98)
AIG
67.84
67.84
0.00
(15.18)
Housing programs
38.49
9.48
—
(37.67)
Total for TARP
$456.56
$421.20
$22.72
($40.54)
Status of TARP Initiatives
To date, cash recovered in excess of TARP's initial investments has been generated from its bank investment programs and credit market programs. TARP's auto programs and housing programs are expected to return less than their initial investments.[1] Treasury's investment in AIG through TARP resulted in a loss. However, when combined with other Treasury investments in AIG, Treasury experienced a net gain of $2.4 billion.
The Treasury Department estimates TARP will bear an overall lifetime loss of about $41 billion, as further funding of TARP's housing program is expected. According to the Treasury Department, funds that have been or are expected to be dispersed under TARP's housing program are generally not considered recoverable.
The Bank Investment Program
TARP's bank investment program consists of five components, of which the CPP was the most significantly funded component.[2] The CPP was designed to bolster the capital position of viable banks of all sizes and locations, though the program heavily supported banking organizations with less than $10 billion in assets. (For locations of these TARP fund originations, see Figure 1 below.) Under the program, 707 institutions received capital investments. (See Figure 2 below). In exchange, the Treasury Department received preferred stock or debt securities at a dividend rate of 5 percent for five years and 9 percent thereafter. In addition, the Treasury Department received warrants to purchase stock or other securities.
FIGURE 1
Aggregate TARP Fund Originations by County, Institutions under $10 Billion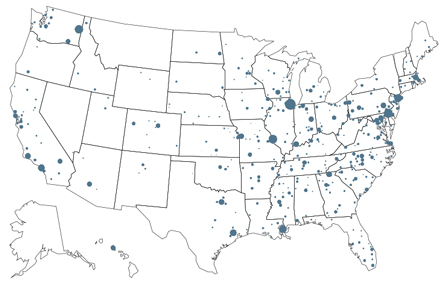 ---
FIGURE 2
Status of Institutions under CPP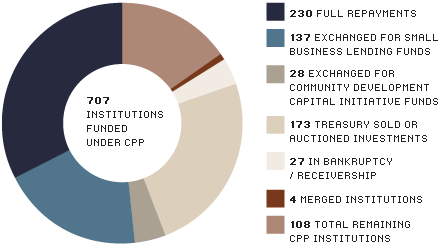 According to the Treasury Department, $2.8 billion of the $245 billion dispersed under the bank investment program remains outstanding today, primarily from the CPP.[3] As of Sept. 30, 15 percent of the initial CPP recipient institutions remained in the program.
Conclusion
The Treasury Department continues to unwind most of its TARP programs. Only TARP's housing initiatives are actively funded. Cash collections under TARP's bank investment programs represent more than 100 percent of the original Treasury investment. This level of repayment exceeds original expectations for the five components of TARP's bank investment programs. Overall, relative to original expectations and perhaps to public perception, TARP's bank investment programs appear to have been successful in stabilizing banking conditions and at a cost far less than originally projected.
Endnotes
For further explanation of the TARP programs, refer to http://www.treasury.gov/initiatives/financial-stability/TARP-Programs/Pages/default.aspx. []
The other four programs are the Supervisory Capital Assessment Program, the Asset Guarantee Program, the Targeted Investment Program and the Community Development Capital Initiative. The Supervisory Capital Assessment Program was a supervisory stress-test exercise performed on the nation's 19 largest, most systemically important institutions. The aim was to restore market confidence; however, Treasury was not required to make any supporting investments. The Asset Guarantee Program and Targeted Investment Program provided assistance to two institutions: Bank of America and Citigroup. Both programs closed in 2009 at a net gain to taxpayers of about $7 billion. The Community Development Capital Initiative provided funding to qualified community development institutions. Funding for this program was completed in 2010. []
This includes $2.2 billion refinanced out of the Capital Purchase Program and into the Small Business Lending Fund. In addition, $363 million in funds were exchanged from Capital Purchase Program funds into the Community Development Capital Initiative. []