On Oct. 2-3, the Federal Reserve Bank of St. Louis, the Conference of State Bank Supervisors and the Federal Reserve System co-hosted the first annual community banking research conference, Community Banking in the 21st Century. The conference focused on the opportunities and challenges facing the community banking industry.
The conference featured remarks from Fed Chairman Ben Bernanke and St. Louis Fed President James Bullard and keynote speeches from Fed Gov. Jerome Powell and Cape Cod Five Cents Savings Bank President and CEO Dorothy Savarese. Attendees also heard presentations of the latest academic research on community banking. In all, 12 papers were presented over the course of three sessions: the role of community banks, community bank performance and supervision and regulation of community banks. Summaries of the research papers can be found below.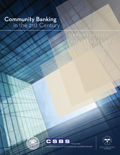 Capping off the conference was a presentation of the results of a series of town hall meetings, during which bankers from across the country gathered to discuss the state of community banking. More than 1,700 bankers from 28 states participated in the town hall events, which ultimately culminated in the publication, "Community Banking in the 21st Century: Opportunities, Challenges and Perspectives."
For more information about the conference, see the Central View column by Julie Stackhouse, senior vice president of Banking Supervision, Credit, Community Development and Learning Innovation for the St. Louis Fed, or visit www.stlouisfed.org/CBRC2013. The next conference will be held in 2014 at the St. Louis Fed. Details about next year's conference will be available in a future issue of Central Banker.