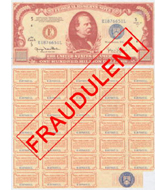 The Federal Reserve Board issued a supervisory letter on July 16, warning examiners and bankers of the growing use of altered Federal Reserve notes in illicit investment schemes. The worthless notes have face values of astronomical amounts—$1 billion, $100 million or $50 million—and have coupons attached to them.
According to the letter, "wrongdoers have been falsely claiming that the 'notes' can be taken to banks and other financial institutions to be used to collateralize loans or traded as part of an investment program. They cannot be used for any purpose whatsoever because they are entirely bogus."
Because the phony notes are in such high denominations, one would assume that the public wouldn't easily be fooled; however, the perpetrators of the frauds often claim that the altered notes they hold are very special. Ploys might include saying that the notes are part of a secret trove issued by the Fed that has been hidden abroad for decades.
Federal law enforcement authorities ask that any individuals, banks or other entities that have been contacted about the fraudulent notes contact their local office of the FBI, U.S. Secret Service, U.S. Bureau of Immigration and Enforcement or the IRS' Criminal Investigation Division.
To view this supervisory letter and an image of one of the bogus notes, go to www.federalreserve.gov/boarddocs/SRLETTERS/2003/sr0314.htm.