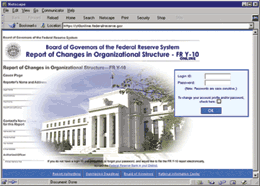 The Federal Reserve Board of Governors has finalized the new "Report of Changes in Organizational Structure" (FR Y-10), which replaces the existing "Report of Changes to Investments and Activities Reported by Top-Tier Financial Holding Companies, Bank Holding Companies and State Member Banks" (FR Y-6A).
FR Y-10 is designed to reduce respondent burden by increasing the threshold for investments and streamlining the method of reporting percentage ownership for non-banking investments. Eighth District bank holding companies should have received copies of the new report form and instructions in August. FR Y-10 became effective Sept. 1. Therefore, institutions should now report any structure changes that occur on this new form.
To assist with filing the new FR Y-10, a new Internet application is available for electronic reporting. The application, "FR Y-10 Online," makes reporting easier. It also ensures accuracy by providing an online replica of the report, as well as electronic wizard functionality, which populates the report based on questions and answers. Institutions can electronically submit reports and receive immediate confirmation upon receipt at the Federal Reserve. These features are just a few of the many benefits that electronic reporting offers.
If you have any questions regarding the FR Y-10 report form or FR Y-10 Online electronic submission, please contact Joan Boelter at (314) 444-8627, or 1-800-333-0810, ext. 44-8627. You also may visit FR Y-10 Online at https://y10online.federalreserve.gov.