Encontrar respuestas rápidas a preguntas de finanzas personales frustrante que pop hasta ahora y otra vez. Seleccione un tema y ver un breve intercambio de mensajería instantánea (pregrabado) con un experto financiero.
Please note: Due to recent upgrades to some internet browsers, the Personal Finance 101 Chats may not work well for all users. We suggest using the chat transcript below as an alternative to the chat application.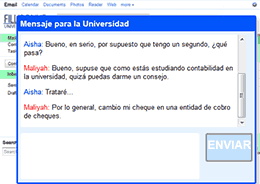 versión inglés / English version
---
Transcripción de conversación
Maliyah: Hola Aisha, ¿tienes un segundo para ayudarme a ver qué hago con mi cheque de sueldo?
Aisha: Ah, dámelo, hermanita.
Aisha: Bueno, en serio, por supuesto que tengo un segundo, ¿qué pasa?
Maliyah: Bueno, supuse que como estás estudiando contabilidad en la universidad, quizá puedas darme un consejo.
Aisha: Trataré…
Maliyah: Por lo general, cambio mi cheque en una entidad de cobro de cheques.
Aisha: Esos lugares cobran cargos ridículos; no puedes seguir haciendo eso.
Maliyah: ¡Ah, sí! ¡Es terrible! ¡Pero la verdad es que prefiero tener el dinero de mi cheque!
Aisha: ¡Sí, pero si te roban el dinero, te quedas sin nada!
Maliyah: Mi amiga Tiffany del trabajo me dijo que a ella le cargan el cheque directamente en una tarjeta de débito prepagada. Y estoy pensando hacer lo mismo.
Maliyah: ¡Lo que me preocupa es que nunca veré mi DINERO!
Aisha: A ver, tarjetas prepagadas… pensemos en sus beneficios. En primer lugar, no vas a tener que pagar el cargo por cobro de cheques.
Maliyah: ¡Ah, buenísimo! Tiffany me dijo que una de las ventajas es que puede comprar y pagar sus cuentas en Internet.
Aisha: Me parece que para ir de $hopping no necesitas ayuda por lo que vi la última vez.
Aisha: La otra ventaja es que si pierdes la tarjeta prepagada o te la roban, estarás protegida de perder el dinero. Eso dependerá de las normas del emisor de la tarjeta.
Maliyah: Tampoco tengo que preocuparme por abrir una cuenta bancaria.
Aisha: Enseguida hablaremos de eso… pero veamos alguno de los problemas que puedes tener con la tarjeta prepagada, como por ejemplo que algunas también cobran cargos muy ALTOS.
Maliyah: ¡Pero espera! ¿Cargos por qué? ¿Su uso no es gratis?
Aisha: Obvio. Las tarjetas prepagadas cobran todo tipo de cargos. Por activarlas, por usar los cajeros automáticos, por cargarlas con dinero, por NO usarlas. ¡Ah, y algunas también cobran por CANCELARLAS!
Maliyah: ¡Entonces me conviene seguir yendo a cambiar mis cheques y pagar todos esos cargos!
Maliyah: Uf. ¿Por qué es todo tan complicado? Dime qué me conviene hacer.
Aisha: Bueno, volvamos al tema de la cuenta bancaria. ¿Por qué te niegas a tener una cuenta bancaria?
Maliyah: No, no me niego. ¿No es complicado? En realidad, nunca estuve en un banco, pero me han dicho que es un lío.
Aisha: No, ¡abrir una cuenta de cheques para estudiantes en un banco o una entidad crediticia es muy fácil! Es el primer paso para construir un buen historial crediticio para que puedas comprar cosas más importantes en el futuro. Deberías considerarlo.
Maliyah: Puede ser. ¿Pero que debería hacer AHORA?
Aisha: Pregúntale a tu jefe qué tipo de tarjeta prepagada usan en tu trabajo para pagar los cheques de sueldo. Luego podrás consultar los cargos de esa tarjeta en Internet.
Aisha: Después pregunta en la entidad crediticia de enfrente si tienen cuentas de cheques para estudiantes, y en ese caso, qué saldo mínimo piden y qué cargos cobran.
Aisha: Averigua eso y luego volveremos a conversar para ver qué te conviene.
UNA SEMANA DESPUÉS...
Maliyah: ¡Eh! Averigüé muchas cosas, ¿tienes un segundo?
Aisha: ¡Sí! ¿Averiguaste los cargos qué cobran por la tarjeta prepagada?
Maliyah: Sí, como me depositan el dinero directamente de mi trabajo, no cobran ningún cargo por eso, pero me cobran $2.00 cada vez que use un cajero automático, ¡más los cargos que correspondan a cada cajero!
Maliyah: ¡Eso significa que cada vez que quiera sacar dinero de mi tarjeta me costará entre $4 y $5! ¡Casi lo mismo que me cobran por cambiarme el cheque de sueldo completo!
Aisha: ¡Qué! No me parece un buen negocio. ¿Y averiguaste sobre la cuenta en la entidad crediticia?
Maliyah: ¡Sí! ¡Es facilísimo! Tienen una cuenta de cheques gratis para personas menores de 25 siempre y cuando aceptes el depósito directo y optes por estados de cuenta bancaria por correo electrónico en vez de recibirlos impresos por correo.
Maliyah: ¿En serio? ¿Quién usa el correo todavía?
Aisha: ¿Y los cargos?
Maliyah: Si firmas para recibir protección de sobregiro, te cobrarán un cargo de $35 cada vez que gastes más de lo que tienes en tu cuenta. ¡Pero, hay más! Como es una "cuenta de principiante", te permitirán cometer un error sin cargo cada seis meses.
Aisha: ¡Magnífico! ¡Ojalá mi banco me lo ofreciera! Bueno, ¿qué vas a hacer?
Maliyah: No eres la única persona inteligente en esta familia. ¡Ya abrí mi cuenta de cheques gratis y estoy a punto de ingresar a ella en Internet para ver si ya me hicieron el depósito directo! Nos vemos después.
Aisha: ¡Chao!
---
En caso de experimentar dificultades de acceso al contenido de esta página, en especial debido a alguna incapacidad, favor de contactarnos al 314-444-4662 o vía el correo electrónico: economiceducation@stls.frb.org.