Encontrar respuestas rápidas a preguntas de finanzas personales frustrante que pop hasta ahora y otra vez. Seleccione un tema y ver un breve intercambio de mensajería instantánea (pregrabado) con un experto financiero.
Please note: Due to recent upgrades to some internet browsers, the Personal Finance 101 Chats may not work well for all users. We suggest using the chat transcript below as an alternative to the chat application.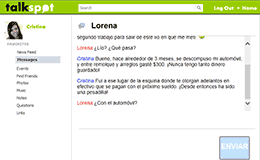 versión inglés / English version
---
Transcripción de conversación
Lorena:Cristina, ¿dónde has estado? No te he visto en el gimnasio por semanas y, ¡la semana pasada no viniste a mi fiesta!
Cristina:Uf, estuve TRABAJANDO sin parar. Tuve que conseguir un segundo trabajo para salir de este lío en que me metí.
Lorena:¿Lío? ¿Qué pasa?
Cristina:Bueno, hace alrededor de 3 meses, se descompuso mi automóvil, y entre remolque y arreglos gasté $300. ¡Nunca tengo tanto dinero guardado!
Cristina:Fui a ese lugar de la esquina donde te otorgan adelantos en efectivo que se pagan con el próximo sueldo. ¡Desde entonces ha sido una pesadilla!
Lorena:¿Con el automóvil?
Cristina:No, no. El automóvil anda fantástico... Es ese préstamo que solicité. Pensé que con algunas horas extra lo iba a poder pagar, pero no fue así.
Lorena:Oh no, ¿qué pasó con el préstamo?
Cristina:Mira, me costó $52 pedir prestado $300. Y tenía dos semanas para devolver el dinero…
Cristina:Para cuando cobré mi cheque de sueldo y pagué el alquiler, la factura de la luz, el seguro, la cuota del automóvil y las compras de comestibles, ¡ya no me quedaba nada! Tuve que extender el préstamo que me costó otros $52.
Lorena:¡Oh no! ¡Cuántos cargos!
Cristina:Pero hay más todavía. A las dos semanas, cuando el préstamo se vencía otra vez, tuve que ir a otra oficina de adelantos en efectivo para pedir el dinero que necesitaba para pagar el primero.
Cristina:Tuve que darles un cheque posfechado que retendrían para cancelar el préstamo hasta el día que cobrara mi sueldo... Ah, y pagarles $57 sólo por solicitar el préstamo.
Lorena:Entonces, ¿todavía debes el segundo préstamo?
Cristina:En realidad, no. No me di cuenta de que depositarían el cheque. Pensé que retendrían el cheque y que tendría más tiempo que con el primer préstamo.
Cristina:Lo que sucedió es que depositaron el cheque para cubrir el dinero que pedí prestado… Y ya había emitido 5 cheques para pagar mis facturas; ¡así que rechazaron a todos! Los cargos por girar cheques sin fondo fueron de $150… ¡Y todavía tengo las cuentas sin pagar!
Lorena:¡Ay Cristina, esto parece una pesadilla!
Cristina:Así que, después de todos esos cheques rechazados, tuve que ir a un TERCER lugar de adelantos en efectivo y pedir prestado $500 para cubrir los cargos por girar cheques sin fondo y para pagar las cuentas que debía. El cargo por ese préstamo fue de $87.
Lorena:¡Uh! ¿Y adónde termina esta terrible historia?
Cristina:No sé. He estado trabajando como 65 horas por semana para ganar el dinero suficiente para pagar los cargos por extender el préstamo actual y saldar por lo menos una parte cada semana. Me parece que nunca lo voy a terminar de pagar.
Lorena:¡No puedes seguir así, Cristina! ¿No has pensado en alguna otra alternativa diferente de los adelantos de sueldo o acudir a algún otro lugar donde puedan ayudarte?
Cristina:Realmente no sé qué hacer. Estoy pagando lo más que puedo, pero cada vez que tengo que extender el préstamo, me cobran más y más cargos.
Cristina:Me estoy hundiendo cada vez más. He tenido que pedir 2 préstamos más para cubrir alguno de los cargos. ¡Ahora le debo dinero a 3 lugares diferentes!
Lorena:Bueno, te paso algunas opciones que deberías considerar. ¿Primero, tienes algún amigo o familiar que te pueda prestar dinero? Me encantaría poder prestártelo, pero justo tuve que comprar el medicamento para el asma para mi beba. Justo en este momento, yo también estoy muy ajustada.
Cristina:No sé. Tal vez mi tía pueda ayudarme. Le voy a preguntar.
Lorena:La otra opción es que hables con tu entidad crediticia y consultes si tienen préstamos más pequeños que puedas solicitar.
Cristina:Lo pensé, pero tuve miedo de que no me lo otorguen por haber girado cheques sin fondos.
Lorena:No lo sabes, no te cuesta nada averiguar.
Cristina:Sí, buena idea. Lo haré si mi tía no puede ayudarme.
Lorena:También deberías consultar a algún lugar de asesoramiento en deudas. Hace algunos años, cuando tuve problemas con mi tarjeta de crédito, realmente fueron de gran ayuda. El asesor me ayudó a preparar un presupuesto y a entender qué hacer con mi dinero. Puedes encontrar más información sobre asesoramiento crediticio confiable en http://espanol.nfcc.org/index.cfm.
---
En caso de experimentar dificultades de acceso al contenido de esta página, en especial debido a alguna incapacidad, favor de contactarnos al 314-444-4662 o vía el correo electrónico: economiceducation@stls.frb.org.